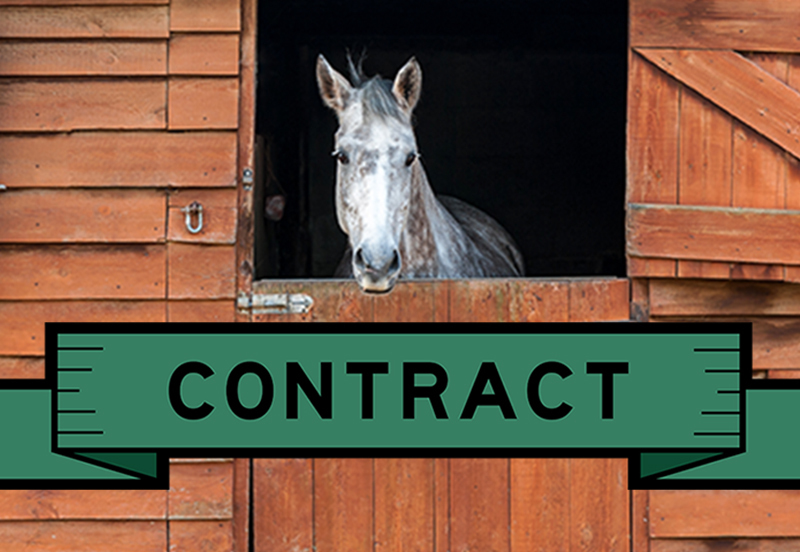 Last time we had Hannah from The Equine Law Firm feature on our equestrian blog it was speaking with Andrew from Whickr tackling questions from a buyer's perspective, like can I really return a horse after purchase? This time, we are going to approach the topic of buying and selling horses from a horse dealer's perspective.
In an eye-opening interview Hannah provides answers to questions collected from a group of professional horse dealers.
1. What is your advice to create an advert of a horse for sale that won't come back to haunt me?
Don't oversell the horse. Try to use only factual statements such as the horse's results, rather than your opinion about what the horse could achieve in the future. Always expressly disclose quirks or habits.
Ultimately, you want to find the right buyer, and if you don't give the most accurate representation of the horse, at best, you will receive enquiries from unsuited buyers, but at worst, you will sell to somebody who is not suited for the horse, and a dispute is likely to follow from that.
2. Does using words like "bombproof" in an advert for a safe horse for sale put me at risk?
Probably, because that is quite a bold claim. The word bombproof does have a specific understanding within the industry to mean essentially very safe, rather than literally, "will not move in the event of a bomb". However, you may find yourself faced with a Judge who has no understanding about horses, and who finds that you represented that the horse was quite literally unflappable in the face of full scale war if the horse has later reacted to something whether reasonably or unreasonably.
3. What if a horse is purchased and afterwards the buyer complains because the horse has become naughty, however it is likely due to the change of home and routine?
This is a difficult and very common issue. The law in England and Wales heavily protects consumers. There is a provision within the Consumer Rights Act 2015 which says that any defect which arises within the first 6 months after purchase is presumed to have been present at purchase, unless the trader can evidence that it wasn't.
To protect yourself, as far as you can do, you should retain video and photo evidence of the horse when it was in your possession. You can also protect yourself further with your terms of business, see the question below.
4. Is a sales contract worth having?
It is one of the most important things that you can do as a trader to protect your position. If a dispute or litigation was to result from a sale, a contract, or your terms of business, will be the first port of call for a Judge considering the case. It is a way for you to control how the sale is recorded, in a permanent form.
5. What are the key points that should be covered in a sales contract for a horse?
Your terms of business (which will act as a contract in each case, provided that they are signed off) should cover off known risks to you. Examples of key terms include:-
The purchaser should agree that they do not rely on any oral statements made by you in deciding whether they will purchase the horse. Purchasers will often cite that you have told them something at a viewing. You may not have thought to be a binding statement at the time, but it could be used against you during a dispute.

A statement providing for specific disclosure of known (current or historical) health issues, temperament issues, quirks or requirements of the horse, to prevent a purchaser from claiming that you didn't tell them about these issues.

A statement to confirm what the exact intended purpose for the horse is, to avoid a purchaser buying a "happy hacker" and later complaining that it is not suitable for competition.

A requirement for the purchaser to confirm they have carried out adequate, thorough and appropriate inspections of the horse in order to satisfy themselves that the horse is (at the date of the sale) in terms of its conformation, temperament, training and ability, fit for the purpose which they intend to use it and of satisfactory quality
6. What are my after sale responsibilities for horses I have sold, if any?
Legally speaking, responsibilities only arise if the horse is not as described, not of satisfactory quality or not fit for purpose. If that is the case, then you are technically required to "repair" the issue or "replace" the horse. If those are not possible, you are required to refund the buyer.
7. What if the person is a novice rider and they lie about their ability?
This is a real issue for horse dealers and other traders. You can offer yourself some protection in your terms of business by having the purchaser warrant to you that they have the requisite experience, knowledge and resources to care for the horse. If an issue transpires which is principally caused by the buyer's lack of experience, it will help you to show that you should not be held responsible.
8. Instances where a horse is on sales livery and the owner tells me information which turns out to be incorrect and I relay that information on to the buyer, am I responsible?
Where you are selling on behalf of someone else, you should make it very clear to the purchaser that you are acting as an agent, that you do not own the horse and that if they decide to purchase, they will be making a contract with the owner of the horse, not you. This should protect you from the majority of claims. However, less commonly, agents can be held liable for any inaccurate statements made to the buyer for "negligent misstatement". You should ensure that any statements made by you are factually correct. You may wish to seek a prior written agreement from the owner that they will indemnify you (stand behind you financially) if any complaints or claims are directed to you in relation to the horse and ask the seller to put all of their information about the horse to you in writing so that there can be no dispute about what you were told.
9. Some buyers after purchase want to return the horse for no more reason than they don't like the horse. What is my responsibility and what protection do I have from these types of situations?
In most cases, a buyer should only be able to return a horse if there is a problem with it. However, increasingly, buyers are trying to rely on the so called "cooling off period" in the distance selling legislation. This legislation is aimed at large businesses selling services or products over the phone or online such as insurance. However, buyers may try to argue that if they have bought a horse "unseen", these regulations should apply and they can reject the horse in the first 14 days for no reason. You should seek to protect yourself against this by a) encouraging purchasers to see the horse, wherever possible, and b) having a clause in your terms of business which confirms that you do not sell horses through "an organised distance sales scheme" (that is the trigger for the "cooling off period" rights).
10. With social media, an upset buyer can easily and quickly threaten to ruin my reputation, even when I am not at fault. Is there any way to protect myself from slander on social media?
In the era of social media, one disgruntled customer can have a profound negative impact on your business. Customers may decide to vent their frustrations publicly, or leave a bad review about your services. This can be particularly devastating if the allegations simply are not true.
If you fall victim to a campaign of negative publicity, I would recommend the following steps:-
Most slander will happen when a purchaser feels that they are being ignored. Whilst you should not engage in quick fire debate, you should acknowledge correspondence sent by them about any issues arising after purchase, and advise that either you or your legal representative will revert to them promptly.

Establish practically what can be done by you to stop, remove or block the offending material. For example, social media site Facebook allows users of a business page to ban or block certain users or to report abusive material.

If you are seriously concerned about the damaging nature of the statements, seek legal advice. A legal representative will usually be able to write to the host of defamatory material (such as a website) in order to request that it be taken down. They may also write to the individual in order to warn them of the risks involved with their conduct, or if necessary, commence a claim for defamation.
11. What should I do if a disgruntled buyer threatens legal action?
Firstly, always remember that anything which you write could end up being read by a Judge deciding your case. For that reason, you should not reply in anger to any messages, e-mails or letters from a disgruntled customer. Consider the position carefully and respond in a measured and professional manner.
Secondly, don't put off dealing with complaints, particularly if Court proceedings have been threatened, or have been issued. The purchaser could secure a county court judgment in default against you, which is more difficult to deal with.
Finally, understand the requirements of the Court process, or seek legal advice. If you become involved in Court proceedings, a Judge is likely to issue a strict timetable, providing dates by which certain documents must be prepared and exchanged. Failure to meet these deadlines can have severe consequences.
12. A buyer paid a deposit and the horse was purchased subject to vetting. The horse failed the vetting and they want their deposit back, do I have to return it?
This is not legally straightforward, and it depends if the deposit was a "part payment" or a "true deposit". If you want to be able to retain a deposit, you need to deal with this explicitly in your terms of business.
13. If an agent sells a horse and explains to the buyer it's issues, like it's cold backed, and it is written down in a sales contract which is signed; can they still return the horse?
If an issue is expressly disclosed to a buyer before the sale, they cannot seek to return the horse because of that issue after the sale has taken place, unless the issue was materially different to how it was disclosed.
14. If a horse passes a vetting and later it is discovered that there's a pre-existing medical condition, and the buyer wants to return it but the seller was unaware of the condition, what protection is available to the seller?
This is a difficult one, because if it is established that an issue genuinely did pre-exist the sale, then even if the seller wasn't aware of it at the time, they would still be liable for the issue. This is only the case if the buyer is a "consumer" and not a trader themselves.
15. If you could give one piece of advice to horse dealers on how to better protect themselves and their business, what would it be?
Does it have to be one? I can do three:-
Don't sell to someone if you don't think the horse isn't right for them. It will almost always come back to haunt you. The buyer is likely to respect you for being honest about that, and might wait for you to find a horse that is right for them.

Use thorough terms of business, and get them signed religiously on every single transaction. You wouldn't sell your house without paperwork, and your house is less likely to go lame or spook at a hedge the day after you sell it.

Save all of your adverts, videos of horses, vet reports and communications with buyers.
We hope you liked the interview as much as we did. If you have any questions for Hannah, we are sure she'd love to hear from you. Her details are found below.
Information on Hannah and The Equine Law Firm
Hannah setup The Equine Law Firm in 2017 in order to give equestrians access to a firm dedicated to the industry. Now they act for clients globally in relation to horses from much loved family pets to elite international team horses. To get in touch with Hannah please visit her website, The Equine Law Firm.