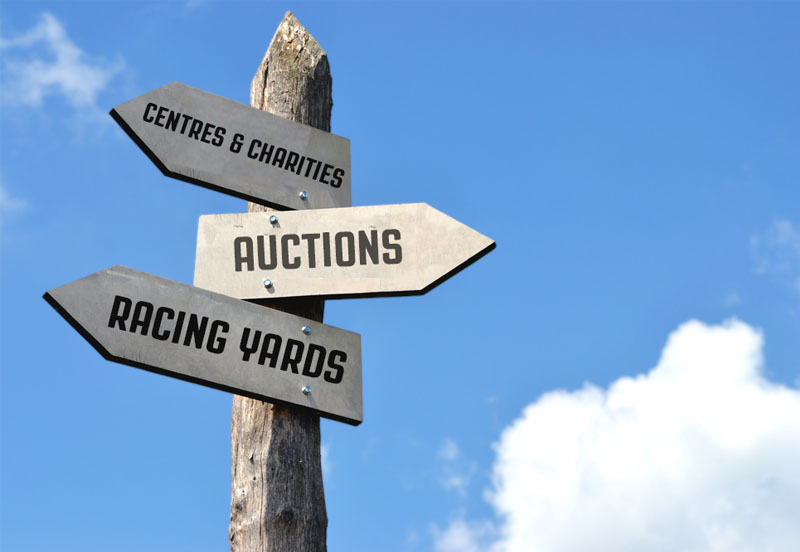 There was a time where owning an ex-racehorse was a maverick move, restricted to those closely aligned with the racing industry or eventing in a fairly competent way. Now ex-racehorses can be seen across all disciplines, and in every capacity from happy hackers to the Olympic podium.
For those who have owned and loved ex-racehorses for years it's no surprise that the wider equine industry are embracing the ultimate in horsey recycling; but where do you start?
And how do you ensure that when you buy a horse, the thoroughbred you buy will match your expectations, and be the mount to get you to your riding goals?
Horse retraining centres and charities
Retraining centres and charities are a great place to look, especially if you're new to thoroughbreds or aren't ready to buy a horse fresh off the track. Not only do these charities ensure that the horses are schooled and ready for a post-racing life, but they will often help match you to a suitable horse.
The option to have a horse on permanent loan, with the knowledge that it can be returned to the charity should circumstances change, will also be reassuring. Moorcroft Racing Welfare is gifted ex-racehorses which they retrain for long-term working homes.
Prospective re-homers can visit and ride the horses as many times as they like, a situation you won't find when buying privately or through the auction!
Other centres include HEROS, Godolphin Lifetime Care, The Racehorse Sanctuary, and even World Horse Welfare.
Ex racehorse auctions
Buying an ex-racehorse through an auction can be a daunting prospect but gives you lots of choice in one place. Ascot and Doncaster are the main venues, and you can check racing history and pedigree once you have a catalogue.
While your transaction will have a certain amount of legal protection through the auction house, you will have less time to look at the horse and won't have the opportunity to go for a ride, therefore this is usually best suited for those who are more experienced or are prepared to take a risk.
Racing yards
The third main source for finding an ex-racehorse is to go directly to a trainer. Nowadays trainers will sometimes advertise retiring horses on their social media feeds, but if you are looking and not in a rush it could be worth contacting a local trainer with your horse specification and asking them to let you know if something comes available.
This is what I did almost ten years ago, and the result was the purchase of a six year old gelding who still owns me today!
The trainer let me have him on a month's trial before committing to buy, which was the perfect chance to check that we could be friends!
The majority of trainers will want the best for horses that have been in their care, and will be prepared to tell you about any history of injury, temperament in the stable, and suitability for different disciplines. Ask to speak to the lad or lass who has the main responsibility for the horse's day to day care; they will know its quirks and foibles better than anyone.
To wrap up
Of course, deciding where to look for your ex-racehorse is an important part of the quest, but another crucial part is to choose the right horse once you get there.
If you own an ex racehorse, and would like to share your experience with us here at Whickr, please post your comment below, thanks!