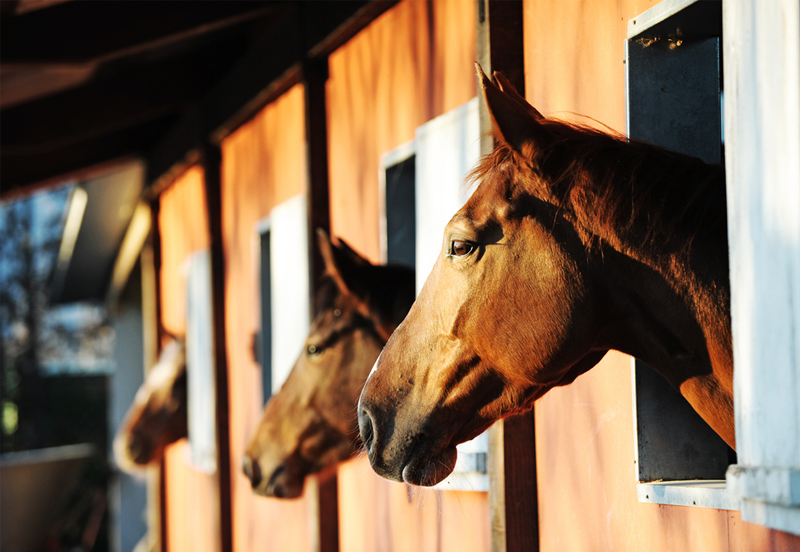 Horse dealers are at the front and centre of buying and selling horses. If you're looking to buy a horse, you'll probably find yourself asking around to find your local horse dealer, or you might even Google it.
It's always the same though. We all have that one friend who tries to put you off buying from a horse dealer, suggesting that you go through a private seller instead. No doubt they'll make their point with some horror story about the time their friend's daughter's second cousin tried to use a horse dealer over 10 years ago.
Most of the time these issues come down to lack of education or exaggerated abilities on the part of the buyer. It's certainly not the case that all horse dealers are out to get you!
In fact, there are some key benefits to buying a horse from a horse dealer over a private seller, so here are 5 of them.
Variety of horses
Let's imagine that you're selling your 1 metre show jumping horse, and you want to buy a new horse that, with time and riding lessons, you can jump 1.20m tracks on.
You've put together a checklist of requirements to help find the right horse, but this can only get you so far. As any seasoned equestrian knows, the right horse on paper might not work out in reality.
This is where your horse dealer comes in. They'll have multiple horses you can try out that fit your checklist of requirements, with different ages, heights and abilities. After trying the horses that you thought might tick your boxes, you can also give something completely different a go.
There will be a whole spectrum of horses on offer, and each dealer will have several that you can experiment with!
On the other hand, a private seller will usually have just one horse for you to try. If you've travelled a long way, only to find that you weren't the right match, you'll either have a long journey back feeling disappointed or even find yourself buying a horse that you really shouldn't.
Stronger legal protections for horse buyers
If you decide to buy a horse from a horse dealer, you gain an added layer of protection under the Consumer Rights Act 2015. Should the horse be of unsatisfactory quality, not fit for purpose or not match the description, as the buyer, you have the legal right to return the horse within 30 days and ask for a refund, or similar.
Don't forget that you need a good reason to ask for a refund. Changing your mind about the colour isn't enough – this isn't Primark!
However, buying from a private seller, only the principles of "caveat emptor" or "buyer beware" apply. In those circumstances, the onus is on the buyer to prove misrepresentation, which can be tricky.
Easy background checks on horse dealers
When buying from a private seller, it can be tricky to really understand who you're actually buying the horse from. This may be their first and only horse sale, meaning they have no track record or previous buyers you can speak with to get the full measure of them.
In contrast, most reputable horse dealers have a website and a Facebook page, making it relatively straightforward to get an idea about their background. They may even have reviews from previous customers that you can check out on Facebook.
If you want to go one step further, there are Facebook pages where you can ask your local community about a particular horse dealer and get some feedback. While it's always useful to get a second opinion, be careful not to treat everything you hear online as gospel!
Experienced equestrians
If this is your first time buying a horse, and the sellers first time selling a horse, how do you know the price they're selling at is fair and accurate?
A professional horse dealer buys and sells all types of horses on a regular basis. It's their job to know the market inside out. Particularly with young horses that have so much room to develop mentally and physically, a large part of the price depends on potential, which is difficult to measure – even more so when it's your first time.
Also, don't forget that a horse dealer will be more expensive than a private seller as she's adding a 20% VAT charge on top which the private seller doesn't have to worry about.
Swap your existing horse
Just like a garage that part-exchanges your old car when you buy a new one, a horse dealer will do the same!
If you're selling your current horse, there's a high chance your horse dealer can include an exchange as part of the price. Horse dealers are in the business of both buying and selling of horses, meaning they can help your current horse find a new home with a different equestrian.
Even though you've outgrown your horse, or it isn't quite suitable for you, someone out there is likely desperate to find one just like him. A horse dealer is much more likely to find a buyer than you are, and may even have someone in mind already!
Summary
Horse dealers are the professional backbone of the buying and selling industry in equestrianism. They provide a market place, legal protection, variety and probably your next four-legged friend!
Let's not allow one or two horror stories detract from how much they bring to the equine community.
Here's to the reputable horse dealers of the UK!