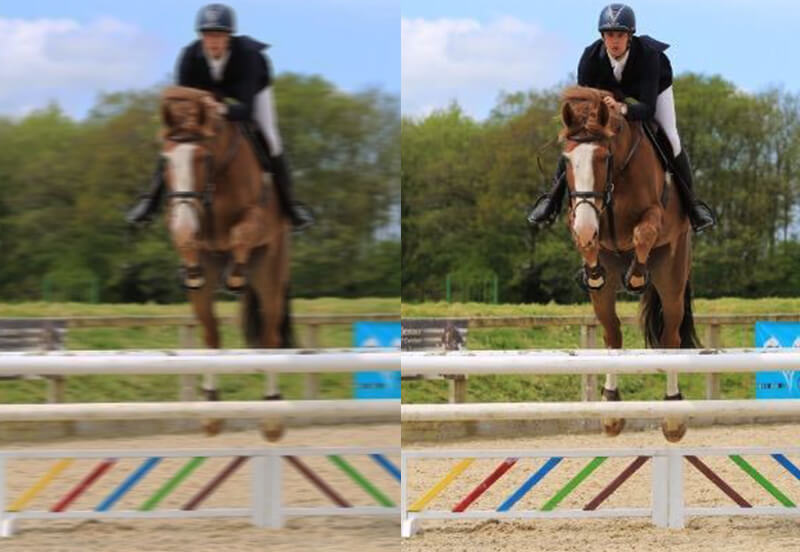 Whether you're a horse dealer, or a parent selling your child's first pony, the benefit of creating the best advert possible to showcase your horse for sale is the same. An eye-catching advert will attract more potential buyers and perhaps even a better quality of buyer, meaning a better home for your horse, and a quicker and more pleasant selling experience. In this blog you will find some tips and ideas to help you create your own killer ad.
Tip 1: Write a grabbing title for your advert
Whether you're advertising your horse for sale using Facebook, websites, or horse-selling apps like Whickr, you're competing against other sellers for a potential buyer's attention. There are hundreds of new horses advertised for sale each day in the UK – that's a lot of competition. Make sure your horse stands out, and your first step down that path is by writing a grabbing title.
When thinking about your title, keep it really simple, consider your niche audience and what qualities they want in a horse, and ensure the qualities that stand out the most in your horse are clearly expressed.
Let's say you have a 15.1hh, 9-year-old, Connemara pony for sale. A safe and sensible type that has looked after you out hacking, and allowed your child to have some fun at Pony Club rallies and competitions, along with some drag hunting.
A bad example might look like this: 15.1hh, 9-year-old, Connemara pony for sale
This is less of a title and more of a description. Use your title space to attract potential buyers and include this type of key information once you have grabbed their attention.
A better example might look like this: A perfect all-rounder who would suit a mother-daughter share
Do you see the difference? Creating an advert of your horse is a form of marketing. If you look at how large companies advertise their products, they use emotive language that will resonate with their target audience. As someone with a horse to sell, you should try to do the same.
Tip 2: Don't miss out any key information of your horse for sale
When looking for horses, the potential buyer is in the driving seat. With so much choice coming from multiple platforms, buyers can afford to be impatient or irritated quickly by an advert with little information. Make sure buyers aren't turned off from your advert because you're missing something key. A buyer does not want to contact a seller to enquire about the horse for sale before they have even decided whether they're interested. If the key information is left out it may lead to a lost prospect.
Key information you should include in your horse advert is age, height, breed, gender and discipline.
Should you also include the price of your horse advertised for sale?
This is an optional piece of key information that remains disputed. The benefit of including price is that it will reduce the number of people contacting you for a horse they can't afford. It will also reduce the number of timewasters who are more than likely just nosey. When a horse is advertised as POA, it creates intrigue, even if someone sees your advert and is not in the market for buying a horse. With your eye-catching title, you'll likely get a number of enquiries just to find out the price. If you're sick of timewasters, including the price on the advert upfront might help. On the other side of the fence, it is your decision, and you may not want people you know having that information so freely. It is completely up to you.
If you are selling your horse, we talk about how to discover the correct price when selling your horse here.
Tip 3: Your horse needs a compelling description
Your eye-catching title caught the buyer's attention, and with all key information on show you have some interest – now your horse needs a description.
A description should be a summary of all information a buyer may want to know about your horse, without going into too much detail. A follow-up message or phone call will happen if the buyer is interested and then you can answer more questions or go deeper into why your Connemara for sale is a perfect mother-daughter share. However, worse than too much information is too little. Simply using the key information as your description isn't going to help prompt potential buyers to message you.
A bad example might look like this: A 15.1hh Connemara pony for sale
Instead, why not write something like this?
Connie is a perfect Connemara pony who would suit a mother-daughter share, a teenager, or small adult. Connie has attended PC rallies and camp, competed at local show jumping and dressage competitions with my daughter, and has taken me out drag hunting. Connie has impeccable manners both ridden and on the floor, and is good to do in all ways. Serious enquiries only. A five-star home is a must.
The description should be an expansion of the title. Notice how the number of people Connie would be suitable for expanded from mother-daughter share to a teenager or small adult. The all-rounder part of the title also expanded into what makes Connie the Connemara a perfect all-rounder. Finally, the qualities that are desired from the type of horse or pony advertised for sale are touched on, "… impeccable manners both ridden and on the floor".
For some advertising venues you may be asked to combine your key information and description in one body of text. In that situation I would still advise to hit the buyer with key info first, then the description of your horse for sale.
Tip 4: Use all the available resources for your horse's advert
Paid websites and horse-selling apps like Whickr, will provide you with a healthy amount of advertisement space. At Whickr, for example, in addition to your title, key information and description, comes the option of three photos, two thirty-second videos, and as many YouTube videos as you want. The text on your advert is important, but including images and video clips of your horse for sale is a perfect final prompt that will encourage the potential buyer to hit that message button.
Tip 5: Photos of your horse should be clear and relevant
It is important that the photos of your horse selected for the advert are clear and relevant. Most equestrians nowadays have a smartphone that comes with a quality camera, good enough to take some clear shots of your horse for sale, so there are no excuses for blurry images, indeed poor images could have an adverse effect on the success of your ad.
The first photo should be your best and most relevant photo. If you're selling your horse for a particular discipline, like showjumping or dressage, use the best photo you have of your horse in action. Typically, people will look at a photo before any text, so make sure it's a good one! For Connie the Connemara who is a mother-daughter share, a wonderful photo at Pony Club camp, or out drag hunting, all plaited up and smart with mum would be most relevant.
The second photo should be a full body shot, preferably untacked, showing your horses conformation to the potential buyer. Remember, try and make your horse stand square like they would in the show ring.
After your best photo and a conformation photo, the third photo of your horse advertised can either be a further action shot, showing off an impressive trot, tackling a sizable cross-country fence, or try using a cute headshot – whichever you like the most.
Keep in mind that images captured from video are never as clear as they should be, and without some Photoshop skills you're likely to end up with blurry images of your horse. Advice – take photos and videos separately.
Tip 6: Add video to your advert
In terms of grabbing attention and getting that potential buyer to message you, images trump text, and video trumps images.
The video that you decide to use should be clear and in-keeping with the theme of your advert. Whickr adverts come with two 30-second video options. That gives you plenty of time to show off what your horse is good at, any videos longer than that may not carry the same punch to catch the buyers eye and interest. If you're advertising a showjumper for sale, perhaps one of your horse at home jumping, and another video competing would be a good combination.
In our example of Connie the Connemara, as a mother-daughter share who can do a bit of everything, the two videos would need to show off different qualities. Perhaps one with mum out hacking, and the other of the daughter attending a Pony Club rally.
Do you have videos that are relevant but too long?
All smartphones come with the ability to edit videos stored on your phone, including duration. On an iPhone for example, go into videos, click on the video you want to shorten, and click the edit button in the top right-hand corner, this will take you into an editing area. In the editing area the bottom timeline of the video has two arrows at the start and end, simply drag one in and you can shorten it to the desired length. Once happy, hit done, and save video as new clip, this will create a new video to include in your advert.
Tip 7: Add YouTube videos of your horse for sale
Perhaps a little more relevant to horse dealers as most reputable horse dealers are likely to have a YouTube channel. But, if you are a tech savvy private seller with your own YouTube channel, it is definitely wise to add YouTube links to your advert.
For sale adverts at Whickr come with an unlimited number of links to YouTube videos of your horse in action. On top of this, we display the links as attractive thumbnails to entice buyers to watch more videos of your horse for sale. Another benefit of including YouTube videos of your horses for sale is the uncapped length of video, so if a buyer is keen, they can take an in-depth look at your horse.
Don't have a YouTube account? Visit YouTube and click on the top-right icon in blue that says "Sign in" and follow the prompts from there. Don't worry if you get lost, there are tons of blogs available to explain how to create an account.
To wrap up
The advert showcasing your horse for sale is the potential buyer's first impression, if you want to make sure it is a good one, follow these seven tips, and I'm sure we can help find your horse a new home. For more information on what is available by advertising on our horse-selling app, Whickr, please check out our pricing page, Advertising your horse with Whickr.