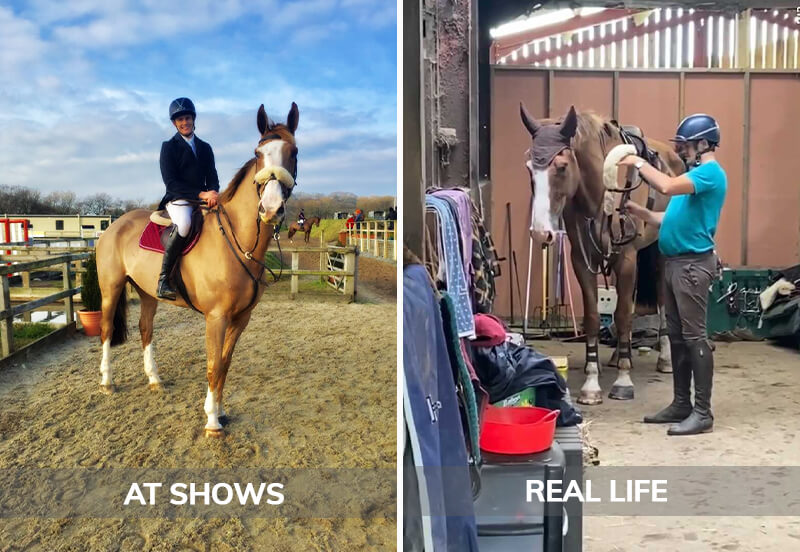 Whilst demolishing the remains of last night's takeaway pizza and washing it down with information on best practices for feeding horses prone to stomach ulcers, it dawned on me the care and detail that goes into my horse's health and general well-being is worlds apart from my own.
A busy week for my horse involves a seven hour working week, with two of those hours consisting of a pleasant hack on the local country lanes surrounding our yard. He has a personal assistant responsible for everything from cleaning to organising his diary. During weekdays most of his time is spent going out for lunch at Chez Field with his friends, eating the finest grass money can buy. Me on the other hand, I'm slaving away so my horse can enjoy the lavish lifestyle he has come to expect.
Here are the seven ways my horse's lifestyle trumps my own;
1. My horse eats the best food and has a meal plan
My horse eats like a king. His chief nutritionist provides a carefully put together meal plan which consists of the best chaff, mash, and balancer for his age, height, temperament and workload. Breakfast is served each morning at 7.30am, sometimes a little later if the butler is hungover. And lunches are always a long and pleasant affair with the lads at Chez Field. Later on when he's collected by his chauffeur, supper takes place at 6.30pm most evenings. Again, timing of supper is subject to the butler's competence, which is questionable at the best of times.
My breakfast on the other hand typically consists of a cup of tea, and a fruit and nut chocolate bar – one of my five a day.
2. My horse works out more consistently than I ever have in my entire life
Whereas myself, Captain McFlabby is considering going up a size in breeches, my horse is in amazing shape. As an "athlete" his job keeps him fit and looking amazing. You know when you watch a film and tell yourself if you got paid millions of pounds you'd look that good too, I have the same experience but with my horse. Whilst he's floating around the arena, showing off his muscular frame and physical fitness, I'm bouncing around on top with my double chin protruding under the neck strap of my riding hat.
3. My horse has a cleaner
Most people are lucky if they can afford to have a cleaner once a month. My horse has a cleaner once a day, sometimes twice depending on whether he's had a house party.
4. A brand new set of shoes every six weeks
Organised by his personal assistant, my horse has a brand new set of shoes every six weeks. The cobbler for horses does home visits, so he arrives at the yard and produces a bespoke set to my horse's liking. I on the other hand find myself living in Dunlop wellies I've owned since the dawn of time, or deck shoes bought from eBay after a successful bidding war landed me the spoils for £8.75, plus postage.
5. My horse has a personal shopper and stylist
Along with his chauffeur, chief nutritionist, cleaner, butler and personal assistant, my horse also has a personal shopper and stylist. They are responsible for his shopping and decide what brands, styles, and colours suit him best, and for what activities organised into his schedule. Dressed to impress in nothing but the best brands, with enough rugs and tack for a different outfit each day of the week. And should a rug end up damaged, usually by his own doing, the personal assistant sends it off immediately to be washed and fixed.
When we are out in public together my horse insists that I don't embarrass him with my usual attire of "ASDA-rio'' clothing from the men's section of George. That's when my credit card comes in handy, to pay for Cavalleria Toscana competition clothing I would never be able to afford otherwise. When home from public events I change back into my usual rags and stop the pretense I can keep up with my fashionista horse.
6. Physical health is monitored regularly
As an "athlete" my horse has the dentist and the chiropractor booked in by his personal assistant for six-monthly check ups. Any sign of illness and the horse doctor comes to the yard immediately, checks him over and prescribes him medicine which I'm unsure he actually needs. But, he's an athlete and heaven forbid he has a cold for the same length of time as us regular folk.
The principles applied to my own physical health are somewhat different. The dentist hasn't seen me since I was a child, and when I fall ill I turn to doctor Google and prescribe myself over the counter painkillers. Unfortunately, time-off to recover from any illness or injury is limited as my horse demands daily care.
7. My horse has work-life balance dialled
He works a maximum of seven hours a week and spends most of his leisure time hanging with the lads at his favourite restaurant. What's not to like!? All I can do is aspire to have the lavish lifestyle my horse leads, hoping that one day I will be as successful as he is. My reality is that I am constantly gambling how many more trips I can get to the yard and back with the fuel light flashing in my 05 plate Renault Clio.
All that being said…
I love my horse and admire him for all the great things he's done. Yes, sometimes he is a little insensitive to others around him and how modest their lifestyles are in comparison to his own. However, he is only young, and perhaps he doesn't know the impact his behaviour can have on others. Maybe I'll bring this up with his therapist and they can discuss it at their next session.