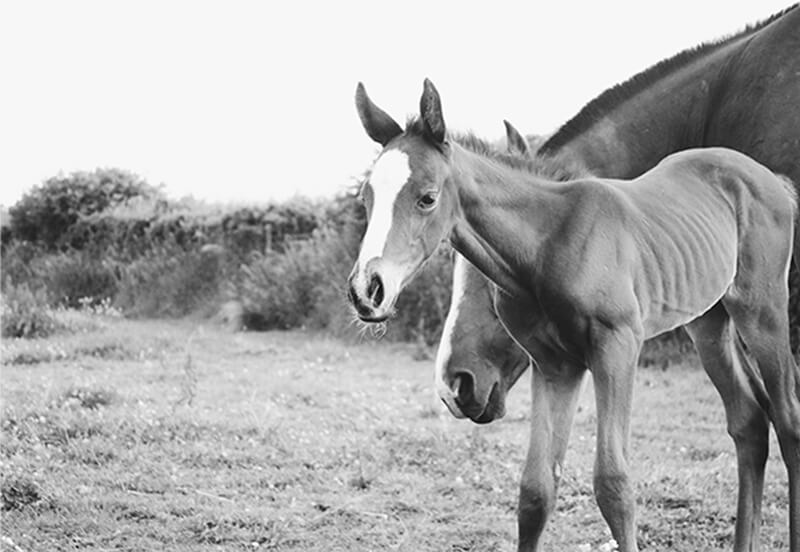 "Nah, he's too tall. Not him either… Too short. Ugh, is it just me or does he have a weird face?" Head in one hand, phone in the other, I scrolled through the list of potential suitors.
Anyone within the vicinity of the restaurant I was sat in would have thought that I was trawling the internet to find the perfect man. Which I was, in a way. Except this match wasn't for me, it was for my mare, Spooky Lee.
You see, I'd spent a hefty amount of time deliberating the pros and cons, and had decided to breed my first foal.
But no one told me how difficult it would be to choose a stallion.
The dating pool for my mare was huge as each stallion boasted a long list of credentials. For the first time horse breeder, it was almost impossible to decide which one deserved to have a baby with my horse of a lifetime especially when all I had to go off was a handful of photos and some vital stats.
It wasn't until I saw the online profiles of a couple of promising stallions from the same stud that I decided I needed to see these guys in person.
As love knows no distance, this involved a 6 hour round trip. As I pulled in to the stone yard, ten majestic heads leaned over their iron stable doors to greet me and I feared this trip was going to make the decision more difficult, not easier.
I arrived at the stud with nothing but a clutch of naïve questions.
Luckily, the vastly experienced stud owner was on hand to give me advice after I grilled him with a series of questions about what foal I'd get if I bred my mare with the stallions of various breed, conformation and temperament.
He said, "I've owned this stud for over 50 years. Before that, my father owned it, and his father before him. Between us, we've bred thousands of foals from every combination of sire and dam you can imagine. From all that experience I've learnt one thing."
And that key lesson?
"When it comes to foals, you get what you get."
This was a revelation for me as I felt the weight lift off my shoulders. Although choosing the right stallion was important, there were never going to be any guarantees. I wasn't a divine being, who was going to mould their perfect foal from nothing.
Nature and nurture both play a part in breeding a foal.
Meeting the range of beautiful beasts he had on his yard gave me a much better idea of the sort of breeding I wanted for my foal. I thought carefully of my mare's characteristics- both her qualities and her vices.
I'd spoken to the vet who had examined her in the equine equivalent of a glorified STI check who told me that maiden mares often had small foals. As she was just 14.2hh, I couldn't afford for her to throw a smaller foal, which helped me realise I needed to put her to something fairly big.
The vet reassured me this wouldn't be dangerous.
Just like human couples of varying height, the vet told me that putting a mare to a bigger stallion doesn't present an increased risk when foaling.
I settled on a 16.3 thoroughbred stallion. I liked him the second I met him. His eye kind and head handsome, I felt he looked the perfect conformation for a variety of disciplines; he could have played polo or evented and anything in between and his proven offspring confirmed that versatility.
This stallion allowed me to hedge my bets.
Whatever came out, I knew I wanted a horse for life that I could do something with.
It was only two days later I saw my mare was in season and I bundled her onto the trailer and drove straight to the stud. She was covered naturally, and the stud owner turned to me immediately after "That's enough. She's in foal."
At the time, I was taken aback by his mystic approach but he was right. 14 days later a scan confirmed she was in foal and she came back home to run riot for 11 long months.
The wait was agonising.
But if I'd known how traumatic the foaling was going to be, I would have been much, much more patient.