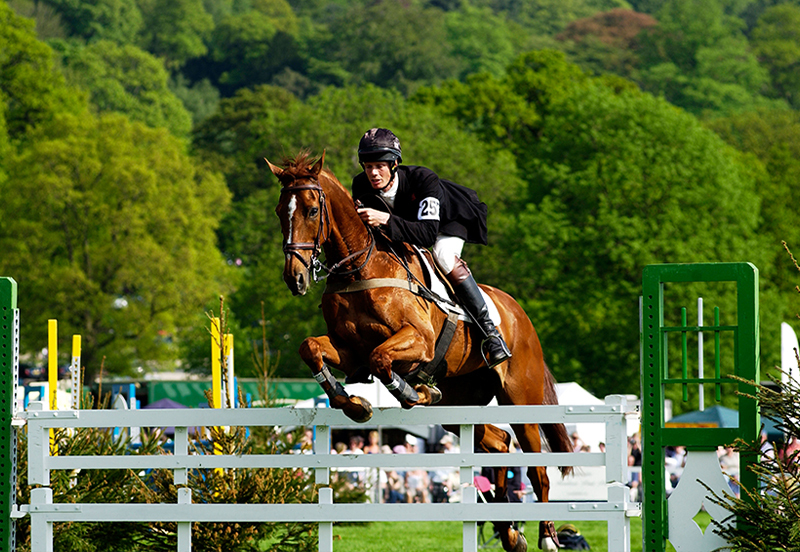 Former racehorses can excel in a range of disciplines, bringing to their new career athleticism, intelligence, and a can-do attitude. Their popularity with riders from grassroots to Olympic level and from hacking to polo shows ex-racehorses' versatility and adaptive nature.
While every ex-racehorse is a star in their owner's eyes, and many have great stories of multi-disciplinary successes and longevity, certain horses stand out as leaders in their respective disciplines.
In this blog, we'll share stories from the history books highlighting eight (plus one or two extra) of the best ex-racehorses of all time.
Ex-Racehorses turned top event horses
Eventing and ex-racehorses are synonymous, and the British team has historically reaped the rewards of close ties between the racing industry and the three-phase sport.
1. Over To You
Still hacking out in his 30s, the chestnut gelding, known as Jack, is the most medalled event horse in British history. As a pathfinder for the British team he racked up four European team gold medals, two Olympic team silvers, one World team bronze and an individual World silver medal. Although he never won one, this ex-racehorse completed eight four star (now five star) events, and fittingly was the last horse to run long format at Badminton.
Over to You launched the career of Jeanette Brakewell, and he remains a firm favourite amongst eventing fans. His biography, written by Jeanette and Hilary Manners, was published in 2008, and his 30th birthday in 2018 was marked by a party.
As an unsuccessful racehorse who excelled at cross country and had to work hard at dressage, Over to You is an old-school eventing thoroughbred, whose career was symbolised by longevity, grit, and a touch of serendipity; Jeanette Brakewell earned the ride on him when his previous rider brought him for a lesson with her then boss. Proving difficult, she was asked to ride him, and he was later bought by Richard Holdswort for her to compete.
2. Stunning
William Fox- Pitt is a true evening legend; of the world's six five star events, he has won all bar Adelaide. He has won Burghley a record six times, on six different horses, and has been a stalwart of the British team for over two decades.
After a successful youth and early senior career- making his Olympic debut in 1996 on Cosmopolitan – he then spent several years out of team competitions, as his best rides retired from the sport. That was brought to an end in 2001, when he returned to the British team for the European Championships at Pau, taking individual 6th and team gold.
The horse that took him there was the remarkable Stunning. By Ring the Bell, the chestnut's life started in New Zealand, where he raced on the Flat and did some showjumping before being evented by Mark Todd. William Fox-Pitt took over the ride of the ex-racehorse in 1999.
Although he finished fourth at Kentucky in 2002, Stunning's strength was at (then) three star level, winning multiple competitions including Blenheim, Thirlestane, Lulworth, and the British Open Championship in 2003.
Stunning retired in 2004 and spent his later life hunting with the Portman under William Fox-Pitt's head groom Jackie Potts. He died in 2012, aged 26, after a 24 year career of racing, eventing, and following hounds.
Other notable ex-racehorses in eventing include William Fox- Pitt's Parklane Hawk, Andrew Hoy's Moonfleet, Pippa Funnell's Ensign, Gemma Tattersall's Arctic Soul, and Five Boys, who took Kitty King (then Boggis) from junior to senior teams. Across the Celtic Sea Irish eventer Elizabeth Power, who's brother is jockey Robbie, followed a similar route on ex-racehorse Kilpatrick River.
There are also notable thoroughbreds who have excelled at eventing but did not make it to the track, such as Tina Cook's Miners Frolic.
Ex-racehorses who can showjump
Today showjumping is not often associated with ex-racehorses, although many of the best horses do have thoroughbred blood. In showjumping's so-called golden age there were a number of raced and unraced thoroughbreds competing at the top level, on both sides of the Atlantic. At the time professional riders were not able to compete at Olympic showjumping; which means that we will never know the true extent to which these next two horses could have succeeded.
3. Philco
Later ridden by the great David Broome, Philco's career started in America, where he competed as a racehorse before Rodney Jenkins competed him as a showjumper. David Broome is unsure if he had any success – or indeed how many times he ran – but says that he had a different name and may have been related to Native Dancer.
"He was bought from a man named Harry Gill," says Liz Broome, David's wife
"David and Lord Harris saw him at a show in Florida, bought him, and named him Philco."
"He was six years old and had only won about 22 dollars showjumping!"
Philco's career from that point was hugely successful. He and David Broome took team silver at the 1997 European Championships, team gold at the 1978 World Championships, and won the King George V Gold Cup.
The beautiful grey gelding lived out his retirement on the Broomes' Chepstow farm, dying at the age of 32.
4. Idle Dice
American showjumper Rodney Jenkins may have handed Philco over to David Broome, but he had his own tremendous success on another ex-racehorse, Idle Dice.
Idle Dice's racing career peaked at fourth place, when he ran under the name Jonlyle. Luckily his showjumping career was far more illustrious, with United States Equestrian Team coach Bertelan de Nemethy remarking that "adding Idle Dice to a showjumping string is like adding Secretariat to a racing stable."
The professional rider ban meant that Idle Dice never got the opportunity to compete at an Olympic or Pan American Games, but he made the most of the competitions that were open to him, being part of eight winning Nations Cup teams, competing at the 1974 World Championships in Hickstead (where he finished 8th), winning the President's Cup, and winning a total of 31 Grand Prix championships.
In 1987 Idle Dice became the first horse to be inducted into the Showjumping Hall of Fame, followed twelve years later by his rider. Rodney Jenkins retired in 1989, the most successful American showjumper of all time, and in an elegant symmetry, started work as a racing trainer. Based in Maryland, Rodney has saddled over 25 stakes winners.
Ex-Racehorses and dressage
Dominated by warmbloods bred for the job, dressage is not a sport where one expects to see ex-racehorses at the top level. Like modern showjumpers, many of these horses do have racing blood, due to the influence of the thoroughbred on almost all modern sports horse breeds.
Historically there were thoroughbreds competing at the higher levels of the sport; Brenda Williams and Lorna Johnstone, the first British riders to compete at Olympic dressage (in 1962), both rode thoroughbreds. Lorna Johnstone was known to buy horses at the Ascot sales, either because they were too small to race or had already failed as racehorses.
In fact, Britain's first forays into international dressage were characterised by thoroughbreds; in 1958 Joan Gold won the Grand Prix at Aachen on the thoroughbred Gay Gordon. At the 1972 Munich Olympics Lorna Johnstone, by then 70 years old, and the thoroughbred El Farucco, became the first British combination to qualify for the individual dressage final – and the oldest woman ever to compete at the Olympic Games.
5. Wily Trout
Younger readers may find it difficult to imagine, but there was a time when Britain wasn't really that great at dressage. While Britain's eventers won medals from Pony to senior level, and showjumping could recall the glory days of the mid twentieth century, Britain would not win an Olympic dressage medal until the 2012 London Games.
Before this, Britain's greatest Olympic dressage horse was an unlikely hero.
Chris Bartle is best known for his contribution to eventing; as well as winning Badminton in 1998 on Word Perfect, and team gold at the 1997 European Championships, the former jockey has also trained the British and German national eventing teams.
Earlier in his eventing career Chris Bartle rode an ex-racehorse named Wily Trout, who was preparing for 1976 Burghley when he injured a tendon. After some time off it was decided that the gelding – who had point to pointed in the past – should focus on pure dressage.
This proved a good decision – they would compete as individuals at the World Championships before being part of the British team from 1981 to 1987. During this time they finished individual 6th at the 1984 Olympics in Los Angeles – a place that no British combination would better for nearly 30 years – and come second in the 1986 World Cup final.
Not too bad for an ex-racehorse that was originally purchased with a claim that he wouldn't be that good at eventing's first phase.
6. Quadrille
Bred and owned by Her Majesty The Queen, the Danehill Dancer sired Quadrille was named 2020's Retraining of Racehorses Horse of the Year, being the highest performing thoroughbred on the British dressage circuit.
Trained by Richard Hannon Senior, Quadrille won three times under Rules from seven starts, and came second in the 2010 Hampton Court Stakes at Royal Ascot. When injury ended his racing career, the then five year old gelding was offered to Louise Robson of Thoroughbred Dressage, who had already produced one of The Queen's former racehorses for dressage.
Quadrille's dressage career has been a true success; attending the British Dressage Winter Championships three times, winning the Petplan Area Festival at Medium, and being Retraining of Racehorses Champion at Advanced Medium in 2015 and 2016. With a win at Inter I, Louise Robson hopes that he will compete at Grand Prix level.
Quadrille and his stablemates at Thoroughbred Dressage are great ambassadors for ex- racehorses, showing that with the right rider and training they can compete at the top level of dressage, judged against horses that were bred for the discipline.
Ex-racehorses successful at non-Olympic disciplines
Outside of the Olympic disciplines ex-racehorses have traditionally excelled in polo and hunting. Their successes in disciplines as diverse as horseball and polo is highlighted by the competition series organised by Retraining of Racehorses, who also reward ex-racehorses in unaffiliated competitions, fun rides, and hunt rides.
We have selected two ex-racehorses to write about; one who will be well known in and out of the showing world, and another whose success is in a more unusual discipline.
7. Barbers Shop
Like Quadrille, Barbers Shop is owned and bred by Her Majesty The Queen. While in training with Nicky Henderson he won nearly £150,000 before turning his hoof to the show ring under acclaimed producer and rider Katie Jerram-Hunnable.
Barbers Shop's showing career was festooned with rosettes; he won multiple Retraining of Racehorses, Racehorse 2 Riding Horse, and ladies side saddle championships, was Supreme RoR at Hickstead, and Reserve Champion Racehorse 2 Riding Horse at the Horse of the Year Show. Arguably his greatest success came in 2017, when he took the Supreme Ridden Showing Championship at Royal Windsor, right in his owner's back yard.
Royal Windsor welcomed Barbers Shop again in 2018, for a special ceremony to mark his retirement from showing. Since then he has regularly been seen in ex-racehorse parades at race courses across the country, and took part in the SEIB charity ride at Burghley Horse Trials.
8. Annaley My Darling
Most of the ex-racehorses mentioned in this blog have been ridden by household names in equestrian sport, and all of them have been geldings. Our final horse is a mare – and her post racing success comes in a sport that we expect few readers to be well acquainted with.
Barrel racing originated in Texas, and involves completing a clover leaf pattern around pre-set barrels in the fastest time. While the speed may suggest that it is a great sport for former racehorses, it also involves very tight sharp turns, which are not a natural movement for horses trained to run fast and straight.
Annaley My Darling was bred in Ireland in 2010, and her racing career was nothing of note; in ten starts she amassed just short of £2500 in earnings, and was retired as a three year old. She caught the eye of rider Jennifer Wittridge, who gave her a year to grow and transition to barefoot before training the 15hh mare for Western riding.
Because she was not a Quarter Horse, Annaley My Darling could not compete in affiliated Western competitions, but was successful in a variety of classes within the discipline before she started barrel racing.
Competing against Quarter Horses, Jennifer Wittridge believes that her mare is the only ex-racehorse on the UK barrel racing circuit. This hasn't been a barrier to success; the pair have represented the UK in Europe, and in 2019 qualified for the National Barrel Horse Association World Championships in Georgia. Due to the stresses of travelling, Annaley My Darling did not venture to America for the championships.
Why are ex-racehorses successful?
The eight horses profiled in this blog are a small fraction of the ex-racehorses who have excelled in new careers after racing. Their success comes from being athletic, trainable, and intelligent; qualities that not only set them up for new sporting careers, but also ensure that talented and ambitious riders will choose to ride and produce them.
There were many ex-racehorses that we would have liked to include, we would love to hear your recollections of past favourites, and ones to watch for the future.
If you are looking to buy an ex-racehorse advertised for sale, why not check out our marketplace for buying and selling horses!