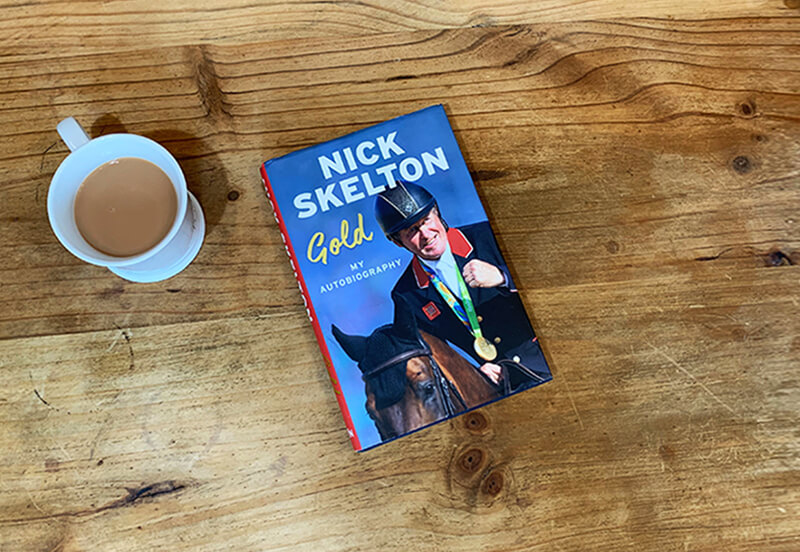 Reading more is high on the resolution list of many people, but is easily brushed off with excuses of not enough time, too much effort, or no inspiration. While it's not the case for everybody, many people do now have more time, and equestrians who are still working may be spending less time riding and preparing for competitions. Our most recent blog covers ten non-riding activities an equestrian can do during the current situation.
So if you are keen to take time away from social media and the news cycle, here are some equestrian themed books to get you started!
The Rutshire Chronicles by Jilly Cooper
Oh Jilly- the sex education we never received as teenagers! While her books are usually categorised as pure filth, the doorstopping novels do actually stand up as great stories in their own right. Polo and Riders are the classic horsey tomes, introducing us to recurring anti-hero Rupert Campbell- Black, his wonderful best friend Billy, and a host of minor and major characters. Some of the characters re-appear in the rest of the Rutshire Chronicles (Rivals, Pandora, The Man Who Made Husband's Jealous etc), and the rural setting keeps you rooted with hunt balls, point to pointing, and hunting. In the modern Mount and Jump Jilly reveals that international showjumper/polo manager/MP/television mogul Rupert has turned his hand to Flat and National Hunt training and owns a thoroughbred stud. Long enough to keep you going for months of isolation, you must make an attempt at these wonderfully thick novels- although a warning that some of the politics are a bit problematic through a 2020 lens.
The crime novels of Dick Francis
Another collection to keep you busy- Dick Francis wrote over 40 crime novels, set in the horse racing industry. His son Felix has continued the legacy. As a former jockey, the books have an insider's knowledge, and are gripping page turners with interesting characters. Perfect if you like a whodunnit, and want an insight into the lives of trainers, jockeys, and stable staff from someone who had been there himself.
Kiss and Tell by Fiona Walker
A similar vibe to Jilly Cooper novels (attractive but badly behaved leading male, massive cast list, lovingly portrayed animals, and affairs and intrigue on every page), Fiona Walker's book is a sequel to French Relations and Well Groomed, but can be read on its own. The main characters are eventers, although Faith is a convert from dressage, and glamour model Sylva represented Slovakia at modern pentathlon. A great thick book with a happy ending.
What Will Be by William Fox-Pitt
There are so many eventing autobiographies to choose from, but WFP's gets a mention because it is by far the funniest. Years after I last read it, I can still make myself giggle by recalling his guinea pig obsession.
The Flambards quartet by K.M. Peyton
Some of you will have read the first novel as children, or watched the TV adaption. Fewer people have read all four books, so take this chance while you have it. Orphaned Christina is sent to live with her cousins in the country, and everyone knows she is expected to marry arrogant, handsome Mark. The first book follows her as stable groom Dick teaches her to ride and then hunt the strawberry roan mare Sweetbriar, while navigating the class dynamics of the day and her uncle's expectations of his sons. The quartet covers a time of major transition as Britain progresses through and beyond the First World War, with the role of horses being a gentle sub- theme.
Blind Beauty by K.M. Peyton
Following the classic trope of girl jockey, unlikely racehorse, and Grand National dreams, Blind Beauty is an immensely satisfying book about racing. I challenge anyone to read it without falling in love with the beautifully drawn characters, both human and animal. Peyton is a really brilliant writer, and her prose will keep you interested even when the plot becomes a little predictable. If you enjoy it track down a copy of her other novel The Wild Boy and Queen Moon, which is about team chasing.
In The Pink by Molly Watson
Set in the years before the hunting ban, this memoir follows sisters Molly and Annabel Watson as they leave their lives in London to try their hand at hunting (for husbands and for foxes) with the Ledbury. Anyone who has hunted with the packs that they visit and host will spend their time desperately trying to work out who has been featured (as a Croome and West Warwickshire follower I baulked at their "nouveau riche" description), while others will be nostalgic for a hunting era that now seems long gone.
Horse Play by Jo Carnegie
This recommendation comes from Whickr founder Brooke, who says that anyone who likes Jilly Cooper will enjoy it! The book is the fifth in a series set in the village of Churchminster, but can be read on its own. It's funny, sexy, and contains a varied cast of characters that will have you thoroughly invested in their lives.
Gold: My Autobiography by Nick Skelton
Whickr founder Andrew is a self-confessed show jumping geek, and his recommendation is Nick Skelton's autobiography. Published in 2017, the book covers the Olympic medallist's rise through the sport, as well as his fairytale comeback to win gold at Rio after breaking his neck in 2000. Nick Skelton won individual gold on Big Star, a KWPN stallion classified a warmblood. We explain more on what makes a warmblood horse and the different types, here.
Other recommendations include the collected work of Richard Pitman, the children's series Jill, and of course, Michael Morpurgo's War Horse. Happy reading - we hope this list will have inspired you with some classics, sweet reminders of childhood escapism, and new novels to discover.
Where to find the books mentioned in the blog