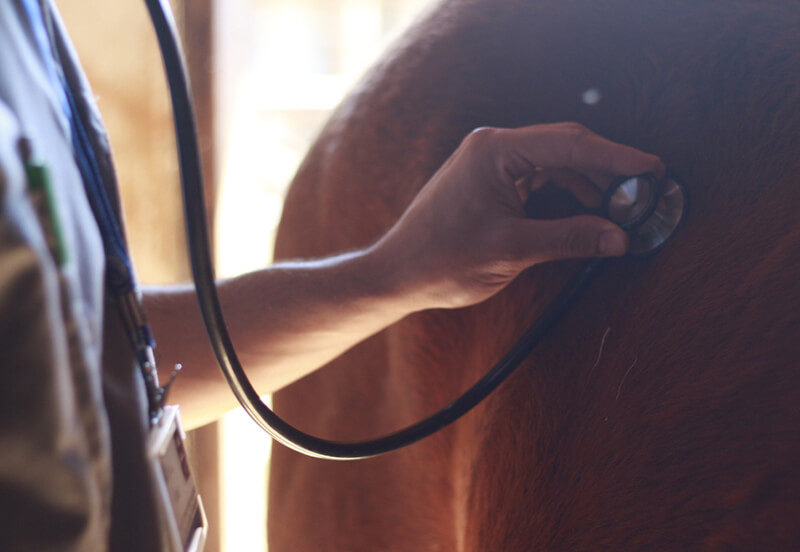 When buying a new horse it's easy to leave that first viewing with a head full of daydreams about your life together. In fact, it's very hard not to start imagining a future from the first swipe through the advert.
However, before you get too carried away it is important to ensure that the horse is physically and temperamentally sound for their new home, and that is where the pre purchase vetting becomes important.
Pre purchase vettings take into account the anticipated use of the horse, therefore are tailored to the circumstances of the individual buyer. The purpose of the vetting is for the vet to give their opinion as to whether or not the horse is suitable for that use.
This means that a horse could "fail" a vetting for one discipline – e.g. high level eventing or hard hunting, but pass for amateur affiliated showjumping or Riding Club dressage. That information can guide the decision making of the buyer, and may also be required in order to take out insurance policies.
Request an independent vet to carry out the vetting
As the purchaser you can ask your own vet to carry out the vetting, or if the horse is outside of their travelling range, request an independent practice. If you can help it, do not use the seller's vet. Ideally you will also attend the vetting, as it is easier for a vet to show you a problem than to describe it over the phone or by email.
The five different stages of vetting
Vettings have five stages, and are offered as a full five-stage vetting, or a two-stage vetting which omits the last three stages. The cost will vary between practices, but our online research found a range from £75-180 for a two-stage vetting, and around £250 for five stages. The cost to own a horse is expensive – if you're managing an unsound horse those costs skyrocket. Sometimes the upfront cost of a vetting can save further expense later down the line.
The type of vetting will depend on a number of factors, but be aware that you may be asked to sign a disclaimer if you opt for a two stage, acknowledging that it is not as thorough. Reasons for choosing a two-stage might be that you are buying a young animal that cannot be ridden, an in-foal mare, or your vetting is purely for insurance purposes and they only require a two-stage.
Here's an overview of the five stages:
Stage One
The vet will carry out a full physical examination of the horse, checking eyes, cardiovascular system, and palpating the body for any abnormalities. The teeth will be examined to assess the age, and the vet will also compare the horse to the description in their passport, scan the microchip, and look at the vaccination record.
Stage Two
The horse is walked, trotted, circled, backed up, and lunged to check for any signs of lameness or gait abnormalities. Flexion tests may be carried out but are not done by all vets.
Stage Three
The horse is ridden- usually in an arena. The aim is to carry out strenuous exercise that will reveal any underlying cardiovascular, respiratory, or muscoskeletal problems.
Stage Four
The horse cools down from Stage Three! The vet may sketch the horse as confirmation of which animal was vetted.
Stage Five
Stage 2 is repeated, this is done to assess whether Stages Three and Four have left the horse stiff or lame.
Apart from the two and five-stage vettings, there are extra tests and checks that some purchasers choose to add to their pre- purchase examination.
Blood sample
The most commonly mentioned is a blood sample – this is stored for six months, and if there are any issues with the horse then the blood is tested for substances that may have caused the change in behaviour or performance (for example, sedatives and painkillers).
Blood testing
Blood testing for health issues at the time of the vetting is less common, but is often brought up by prospective buyers. As it is not a routine part of vetting there is no set testing regime, but a general blood test will look at different markers that can reveal health issues, for example a complete blood count (shows the number of and characteristics of red and white blood cells) and protein levels. Blood testing is best discussed with your vet, who can advise on which tests (if any) are appropriate.
X-rays
X-rays are often a requirement of insurance companies when providing loss of use cover for high value animals (typically in excess of £10,000). The vet may recommend an x-ray if the standard vetting highlights an issue with a particular joint, and some buyers may ask for x-rays.
For example, someone looking to purchase a project to sell on, or someone buying a horse for top- level competition. One of the Whickr team requested x-rays when buying a thoroughbred that had had bone chips removed during his racing career.
Other additions to a vetting can include pregnancy diagnosis, breeding soundness checks, height measurements, and dental examinations with a gag. It is best to speak to your vet about what will be useful for the horse you are viewing, and your intended use.
Vetting and Insurance
For many riders vetting their prospective horse has two purposes; to check that it is suitable for their needs, and also to meet the requirements of their insurance provider. Different insurance companies have different guidelines on vettings, and you should check yours before booking an appointment. Some companies won't ask for any vetting for lower value horses needing vet fee cover, while five- stage vettings are regularly required for permanent loss of use policies. As mentioned above, high value animals may also need pre-purchase x-rays- the insurance company should have guidelines to give to your vet.
Bear in mind that the vetting may have to have taken place within a set number of days of the cover starting, and that the insurer may ask to see a vetting certificate if the horse has been vetted, even if a certificate is not actually required for the level of cover. The report from the vetting will be used when the insurer decides what can and can't be covered in your policy.
To wrap up
Having your prospective purchase vetted is a sound decision - not only because of the insurance implications, but because it can bring you peace of mind that your new friend is objectively suitable for a future with you.
The type of vetting that you choose, and any additional tests, depends very much on your individual circumstances, so should be discussed with your vet. If you need to use an independent vet for geographical reasons, your vet can be consulted as to the vetting needed, and to recommend a suitable practice in the area.
In order to book a vetting, you need a horse that you would like to buy. To help with your search, we cover the top five things to consider when buying a horse in this blog.
Happy horse hunting!