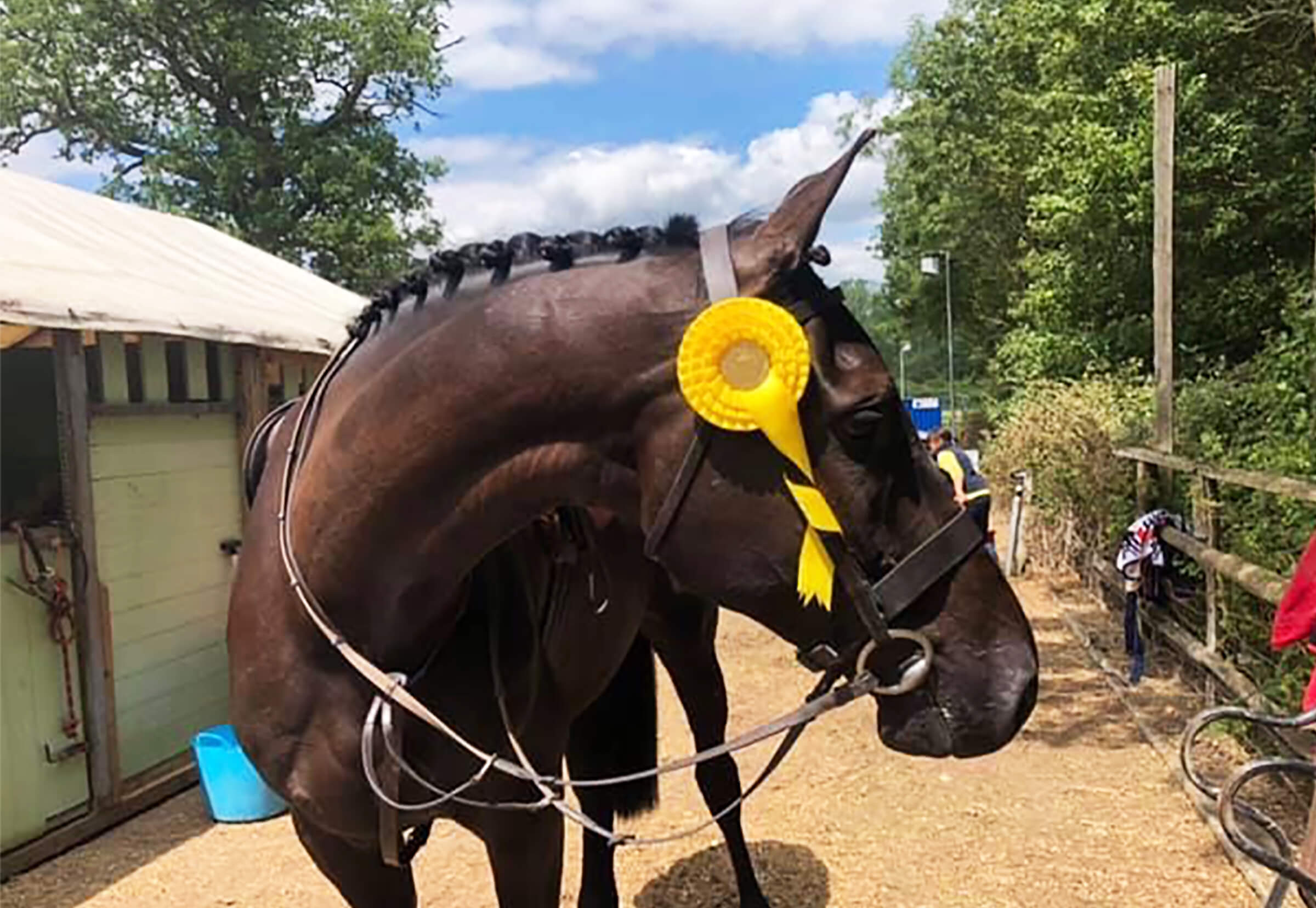 If you're wondering whether to advertise your horse for sale or loan, there's a high chance this decision is more of a requirement than a choice. The fact of the matter is, sometimes your circumstances change, and you can't fit the commitment of a horse into your life anymore. In most cases, it's due to lack of time or new expenses entering your life. Whatever the reason might be, the decision to advertise your horse for sale or loan is a tough one.
I know this first-hand because Brooke and I are trying to make this choice, right now, in fact. And, as gut-wrenching as it is, we've had to face facts and decide which option is best for us and more importantly, our beloved Louis (effortlessly posing in picture above).
Here's the questions we asked ourselves, hopefully they'll help you with your decision – and ours!
Is it to resolve a short-term or long-term change in circumstance?
Potentially, the easiest question. Naturally, you love your horse, so if it's only a short-term solution to an issue that you'd hope to be resolved in the next 12 to 24 months, advertising your horse for loan would be the preferred and obvious choice. However, if you're expecting a child in the near future, for example, and you know your time is unlikely to free up again anytime soon – they stick around for a while – it might be a wiser decision to sell your horse.
In our situation, we're hoping it's only a short-term solution that's required, so that has led to us advertising Louis for loan on Whickr.
How old is your horse?
If your horse has become a bit long in the tooth, making the decision to part ways can be a despairing one. You'll have had wonderful experiences with them, perhaps even grown tall and confident together! However, try to remove your own emotional attachment from the decision-making process and you might be able to consider the possibility that your horse has the chance to make someone else happy during their twilight years. Once you've gone through the pain of parting ways you may both find contentment and realise that it's the best decision in the long run. Who said love was easy!
On the other hand, if your horse is young and eager to learn, loaning your horse out can be advantageous for you in the long-term. With the right person, you could be providing your horse with some worthwhile education that you haven't presently got the means to provide yourself. Although, take note, your young, inexperienced horse out on loan for 12 to 24 months could return as a very different horse – you'll need to prepare yourself for this and make sure you can continue to meet their needs when they come home.
Louis is rising 8 years old, but he's relatively green and requires continued and consistent education. He's therefore not entirely suited to either options, which leaves us sat on the fence on this one.
Next up.
What do you want from a loan home?
This question rather neatly follows on from the age of your horse and is a great one to help you filter down your options. Typically, an older horse looking for an easier life – some hacking and fun rides – are easier to loan out than an inexperienced horse requiring an education. Take a look to see if your potential loanee is selling or buying other horses, and if you can, visit them or just have a chat to them first, and don't be afraid to request some photos or videos. This way you'll get an idea of what you can expect and hopefully some reassurance that your horse will benefit from their stay.
If your horse does require an education, the problem you're likely to encounter is that most experienced riders don't necessarily want to loan a horse to compete and train, given the cost of owning a horse, unless the horse is exceptionally talented, of course. If your horse does appear to have exceptionality exuding from its hooves, then trust us, a few half decent pictures and a short video or two will have willing riders queuing up outside your stable door. This takes the searching aspect away from you and makes your decision more about who is most qualified to ensure your horse reaches their potential. Note – this would be a nice problem to have!
Alas, that lovely problem is likely to be a rare occurrence. A more common scenario is an owner admiring their well-bred four-year-old munching on grass in the field while expertly damaging their bank account. The owner may be increasingly getting the overwhelming sense that their beloved horse is being wasted. If this sounds all too familiar to you, then you may want to consider selling.
Personally, I would like Louis to have an education and come back with some experience. This makes finding a loan home difficult, though not impossible. Making sure I have him honestly and clearly advertised will help people approach us while we look for them too.
How quickly do you need to find your horse a home?
Your situation might change so abruptly that the best, and sometimes only option, is to advertise your horse for sale. Most equestrians love their horses, and if they're spending more on a horse than a car, like most of us do, try to rest assured that the home you find is likely to be a loving and caring one, offering the environment your horse requires to thrive.
Finding the best home for your horse advertised for sale will be a much quicker process than for loan. One of the reasons we created Whickr was to facilitate a more efficient selling environment when you might need it most. A few quick snaps on your phone and perhaps a short video, and you can have your horse displayed to your target market of would-be buyers within minutes of making the decision to do so. You may not have the time to add mood filters or a slow-mo vid of your horse galloping towards the camera, however needs must and the option is there to show off your horse as you see fit.
However, when advertising your horse for loan, more homework is required. Whickr accommodates this by not only listing the loan options available but also having the in-app messaging facility. So, although the loan may not be arranged as quickly as the sale, talks and negotiations can begin within minutes of posting your ad. However, if you're in a whole load of hurry and can't afford to do the necessary homework and chit chat, then perhaps it's best to advertise your horse for sale.
Thinking about our situation here I have to say we are, once again, on the fence. We've started talking to a few people and to be honest are quite enjoying the thrill of being a Whickr user and gaining the first-hand experience of using our own app! However, if we don't find a suitable loan home for him soon, then due to rather tight time constraints it's only fair to Louis that we advertise him for sale. This will give us the best chance of a quick transaction and him the swiftest move into pastures new.
How do you feel about the situation?
It's very easy to know what you should do. But, rationalising a decision in your head is only part one of the process. Part two – how you feel about the decision – is always more challenging. As mentioned earlier, the bond between you and your horse will be a strong one, no one knows your horse better than you do, and probably no one knows you better than your horse! Therefore, questions will start galloping through your mind and will begin to blur all the more rational and practical decisions you've been trying to make: 'How can I trust them?' 'No one can possibly know my horse like me.' 'Surely my horse can be directly involved in the wedding?' 'Who needs to buy a house anyway, I'll build an annex to the stable instead.'
OK, so things got a little crazy back there, but crazy is one of the many emotions you will likely be harbouring. I'm neither a producer nor a horse dealer, as such, my horse is my friend, and the emotional attachment I have to my Louis knocks over any logic in a heartbeat. But, am I being selfish in keeping him as a lawnmower when he's so young and brimming with potential? Should I find a suitable loan home or advertise him for sale and just see who is looking? Perhaps some of my fears will be quashed once I know a bit more about where Louis could potentially go.
What will we decide to do? Well I think it's become clear to us that the answer is 'nothing' at the moment – despite having addressed all the questions above, we can't decide. He's still a lawnmower – merrily grazing away at our lawn, time and bank account. That being said, we know that we may just be going through a short period of denial, because it's all such an unknown at the moment. Hence the beauty of being able to list him on the Whickr app – he's currently being advertised for loan and depending on what interest we get, this could be what finally makes our decision for us.
Basically, if the right person comes forward and we get 'a feeling' then maybe that will indicate to us that the time is right. Maybe you are that person? If so, please feel free to look him up! Loveable lawnmower for loan, anyone? Sniff, sniff.