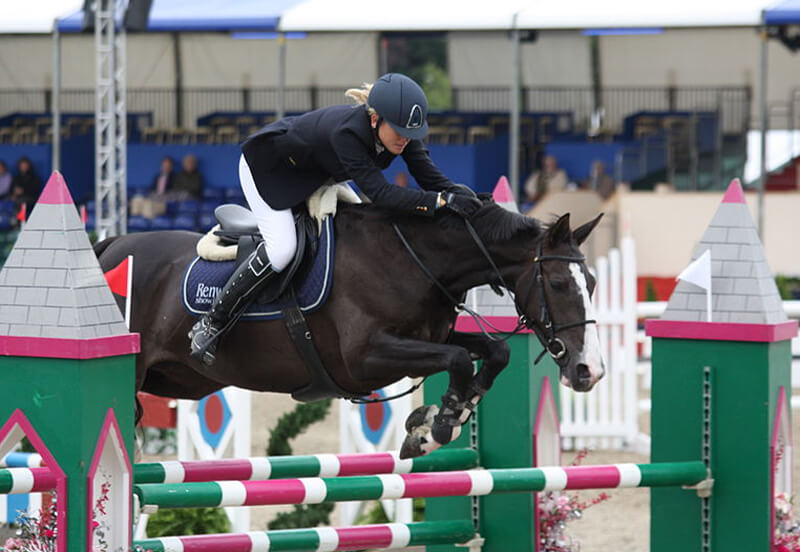 Here at Whickr HQ we were very fortunate to interview international showjumper, Laura Renwick. Laura has been at the top of the sport for many years now, and along with being a renowned speed demon against the clock, Laura and her husband John Renwick run a successful yard, breeding and producing world-class horses.
We talked about the challenge of being an international showjumper and a parent at the same time, and of course we had to ask what it's like riding down to a 2m Puissance wall!
*The Q&A was held with Brooke at Whickr and Laura Renwick answering the questions.
You're such a great inspiration to the equestrian community, how did you land the career you have and how does it feel?
I'm very lucky to be doing what I love as a career but I came into it quite late. Although I have ridden all my life, I only started on my journey and made it what I do when I met my husband John Renwick and we began a partnership that has taken me where I am today.
How do you juggle being a mum and an international showjumper!?
Being a mum has definitely been the most important part of my life and I have been very lucky that Jack has always been a very easy child and a great support to me. Also, we had a brilliant support network of family and friends who have helped throughout his childhood and enabled me to continue competing while bringing him up - he's 18 now so it's a lot easier!
As a renowned Puissance winner, when you're riding down to the wall at 2m high what is going through your mind?
I have never enjoyed the puissance, either as a spectator or a competitor. Having said that I have had some exceptional puissance horses who have made jumping those heights seem relatively easy - I'm usually just thinking "please take off" as I'm riding down to it! If I was a horse I wouldn't! It's not a class you would put every horse in, they have to be so brave and have incredible power. I'm retired from that class now, I'm happy to say!
Is there a particular style of jump that makes your heart sink when walking the course?
There's not a particular style of jump that ever worries me but of course you have different horses all with different strengths, so some courses suit some horses more than others.
How do you mentally prepare for a competition?
I am usually quite a laid back person but of course you put pressure on yourself as you always want to do your best so I just try to focus, give myself plenty of time and make sure me and my horses are relaxed - always a treat for them before I get on, too!
What advice would you give to someone who suffers with their nerves?
It's very hard to not get nervous and I think the more you try not to, the more you will be! The best thing is to have complete trust in your horse and believe that you will be able to do it together, you're not doing anything either of you aren't capable of so you just have to focus on what you can do and not what you think you can't.
Are there any horses you sold that you wish you kept?
All of them! No really it's hard as we have to sell to keep going as a business but it's always hard seeing a horse leave - but my one that I always wished I had kept was Limelight de Breve.
What is the best piece of advice you have received?
If at first you don't succeed, try and try again.
What do you consider to be your greatest achievement?
All the horses we have brought on from 3 year olds to jump at the top of the sport - they are all great achievements. It's doubly rewarding now that we have horses that we have bred ourselves competing and winning too at a high level.
What do you personally look for in a quality horse? Do you have an ideal "vision" of what he or she should be?
I think that most of a horse's quality comes from their mind. A horse can have all the attributes to be top class but if they don't have the right brain they will never be that good. A horse has to want to do the job, enjoy it and work with you not against you.
With the world fast becoming technology driven, what do you think of an app specifically designed for buying and selling horses?
I think an app designed to buy and sell horses is a brilliant idea - the world is changing all the time and I think this is the way forward for the horse business.
---
To find out more about Laura Renwick please visit her website, Team Renwick, and follow her on Facebook and Instagram.
To receive our blogs straight into your inbox, please remember to subscribe to our weekly blog.