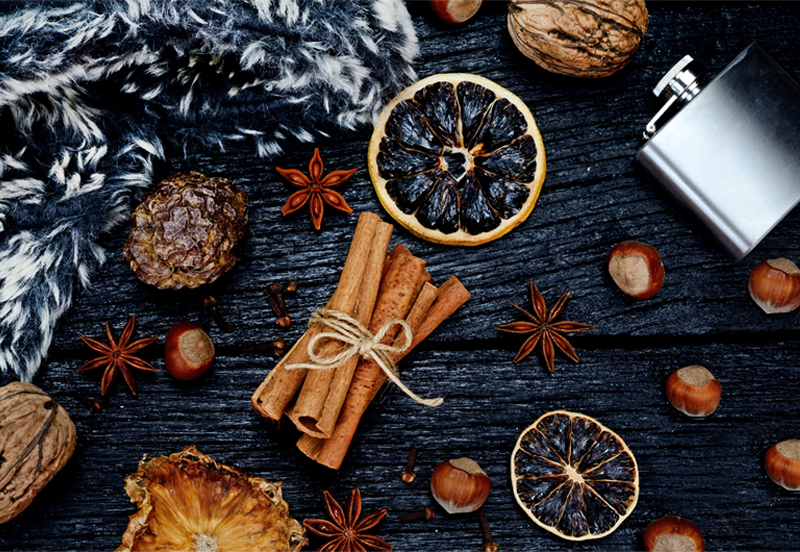 I'm not ashamed to admit that sharing a hip flask is one of my favourite parts of riding with a group of friends.
Shared hip flasks are responsible for some of my greatest friendships, grounded in a mutual love of tradition.
They're responsible for feats of heroic bravery, unleashed when towering hedges followed by ditches the size of the Grand Canyon are casually jumped with glee.
Yes, we all love a tipple from our hippies!
Here are some of my favourite, super easy recipes that will thoroughly warm you on a cold winter's day, and not to mention, give you the bravery of a lion.
Sloe gin – Everybody loves a decent sloe gin, don't they?
Get your hands on 225 grams (8 oz) of sugar and 450 grams (1 lb) of sloe berries. Add the sugar to an airtight jar, followed by the sloes. Pour a litre of gin over the fruit and sugar, then give the jar a gentle shake to mix it properly.
Store in a cool dark place, and remember to turn the whole lot each day, until the sugar is completely dissolved. I recommend leaving it for at least three months, while some of the tastiest sloe gin I've sampled has been years old.
Simply delicious!
Top tip: pick your sloes after the first frost and they'll have so much more flavour. If you prefer a sweeter tipple, add more sugar.
Skittles vodka – Beautifully sweet, ready in just 24 hours, and incredibly addictive!
I love how easy and tasty this recipe is. The sugar rush is particularly welcome during long, cold winter days.
Start with around 450 grams (1 lb) of Skittles, carefully divided into each colour (though feel free to leave them mixed for a quirkier taste). Place each colour into separate, 250 ml airtight jars. Grab a litre of vodka – it's up to you how fancy you choose to go! – and top up each of the jars with it.
Give them a firm shake and within 24 hours the Skittles will have dissolved completely. If there's any residue, strain the drink and get ready to enjoy!
Top tip: replace the vodka with rum for an exotic, yet tasty, Skittles rum.
Blackberry, pear and cinnamon brandy – A splendid winter warmer!
For this recipe, you'll need 450 grams (1 lb) of blackberries, 4 cored and roughly chopped ripe pears and a cinnamon stick. Put 225 grams of the blackberries and 2 of the pears in an airtight jar and top with 750 ml of brandy.
Give the mixture a quick stir and store in a cool, dark place for 5 days. Add 500 ml water to a pan, the rest of the blackberries, the other 2 chopped pears, plus 450 grams (1 lb) of sugar.
Pop in the cinnamon stick and boil vigorously for 5 minutes, then bring to a simmer for a few minutes until you have a glorious syrup. Allow to cool and then add to the jar after its 5 days of waiting and stir. Let the whole thing mellow for a few days, then enjoy! It's especially tasty served warm.
Top tip: if you fancy a bit of 'bite' to your brandy, add ginger at the boiling stage. It's delicious, but not for everyone.
Blackcurrant and raspberry gin – Smooth and mouth-wateringly delicious!
This is simple, but my absolute favourite.
Grab a lemon, 500 grams (1.2 lbs) of blackcurrants, 500 grams (1.2 lbs) of raspberries and 300 grams (10 oz) of sugar. Place the lemon zest, blackcurrants, raspberries and sugar into a 2-litre airtight jar.
Top up with gin (London Dry is my choice). Close the jar and leave for 2 to 3 weeks, giving it a swirl every now and then. Job done!
Top tip: Something this good doesn't need overdressing. Blackcurrant gin is devilishly delicious as it is, so ditch the raspberries for an even simpler, but equally tasty, tipple.
Toffee vodka – Trust me, this is divine!
When I was first offered this, I was skeptical. However, its creamy texture, which is reminiscent of Bailey's, won me over and it's super easy to make!
All you need is a 150 grams (5 oz) packet of Werther's Originals, the same amount of toffee and 1.5 litres of vodka. Wrap all the sweets in a tea towel and smash into tiny chunks with a rolling pin. Add to an airtight jar and top up with the vodka. Leave for a couple of days, shaking as often as possible to help the toffee disperse. After the sweets are completely dissolved, you'll have a creamy and delicious toffee vodka.
A total winner.
Top tip: add a healthy slug of amaretto and four shots of espresso for an extra, very welcome kick!
I hope you enjoy these recipes as much as I do, there really is something for all tastes.
If you have any recipes you'd like to share with us here at Whickr, please pop them in the comment section.