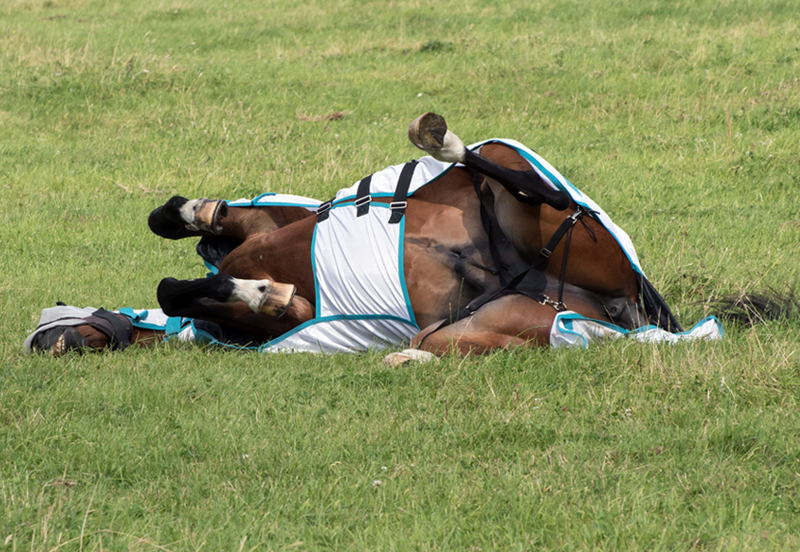 As an equestrian, what a wonderful time of year summer is! It means late evening hacks, horses living out, and a general feel good atmosphere around the yard. If you are thinking about buying a horse this is the most enjoyable time of year.
Gone are the dark, wet and cold evenings that persist throughout winter, when the wheelbarrows feel heavier than a Shire horse under your bare hands, and your feet are frozen solid. Over are the days of desperately trying to dry rugs or treat your horse's Mud Fever or rubbed mane. We can all forget about leaving for work in the dark and arriving home in what feels like the dead of night.
However, despite all the joys and benefits of summer, this time of year also comes with its own set of challenges for us equestrians and our four-legged friends.
We've put together a list of recommended purchases to keep you and your horse well equipped for the summer sun.
Go and buy your horse a fly rug
It's so important to get the right fly rug for your horse, if only to save you a fortune down the line! I've lost count of the number of rugs we've been through, all of which end up trashed on the floor, are too heavy in the heat, aren't effective or don't fit properly. It's ridiculously frustrating!
But fret no more, there is hope on the horizon.
Having tried and tested multiple brands, our resounding favourite are Premier Equine fly rugs.
They work literal wonders and helps to stop sun bleaching. It's worth noting that Premier Equine rugs tend to run a little larger in size, and are a bit more expensive than your usual brands. However, it's a definite case of quality over quantity, and you'll save in the long run by not having to replace the rug every couple of weeks.
If your horse is fair skinned don't forget sun cream
Sun cream is expensive! Even more so if you need to buy branded baby sun creams for those sensitive white noses. Though undeniably effective, it doesn't take long for these creams to rub off while grazing, grooming or playing in the field.
That's why we suggest trying a sun block instead. We recommend Gold Label Sun Guard, which is thick but allows the skin to breathe, it doesn't melt off and it stays put all day long.
This is the only treatment that avoids sunburn completely – an absolute winner!
Protect against those pesky flies with a fly mask
Our top tip when it comes to masks is to avoid those with attached ears. Flies can always sneak up through the gaps and become trapped in the ear area, which will drive your horse completely insane!
Instead, we highly recommend the UV fly mask by Masta, which you can pick up at bargain prices – check them out here at Robinson Equestrian.
These masks fit snugly with plenty of room; the stiff mesh preventing the mask from indenting and irritating the eyes. They also offer UV protection, which has worked wonders for my horse (unbelievably, he has been sunburnt on his brow in the past!).
Garlic in your horse feed
We all know vampires are repelled by garlic and it's the same with those nasty blood-sucking flies!
Supplement your horse's feed with garlic to not only keep the flies at bay, but to also be good for their respiratory system and blood, and make their feed taste delicious (though we don't have any first-hand experience of that!). NAF's garlic granules are our first choice.
Hoof moisturiser
I'd go as far as to say that this is the most important summer task of all: moisturise those hooves like there's no tomorrow! Looking after your horse's feet during this time of year will give you a head start when it comes to maintenance in the colder months.
We love Kevin Bacon's hoof dressing.
Recommended by farriers, vets and professionals globally, it really is the business! Though not the cheapest option out there, it's by far the most effective and gets our vote for that reason.
Feed your horse biotin
Biotin is easily the king of supplements. A capful a day will provide your horse with all the essential nutrients they need to maintain healthy hooves, a glossy coat and a multitude of other benefits. It's particularly good for horses or ponies suffering with laminitis, cracked hooves or dry, brittle feet that are incapable of holding shoes.
We use NAF Value Biotin Blend, which is inexpensive and will last forever!
Fly spray
It's safe to say that we've tried an endless number of different fly sprays over the years and found most to be very expensive, with results that last all of three seconds.
Thankfully, we recently discovered NAFF OFF Extra Effect Spray – it's inexpensive and is genuinely effective, the best spray by far.
Electrolytes for your horse
After exercising your horse in the heat – even early in the morning or late in the evening – they're likely to perspire, or sweat. In each litre of sweat, your horse loses around 9 grams of sodium, potassium, chloride, calcium and magnesium, all of which are essential for their well-being.
The best way to tackle this is to feed them electrolytes daily, throughout the year. Although this supplement becomes more beneficial during the hot and sweaty summer months, a year-round method allows your horse's kidneys to work out what it needs and filter out what it doesn't.
A simple Google search will give you a number of brands to choose from, but we tend to use Science Supplements.
Summary
Although us Brits rarely get much of a summer to shout about, it's still important to be diligent and considerate of your horse during peak temperatures. We hope this list of our hot buys will help you and your horse during the wonderful summer we've been lucky to have so far this year!
Let us know what products and tips you have up your sleeve for dealing with summer as an equestrian in the comments.