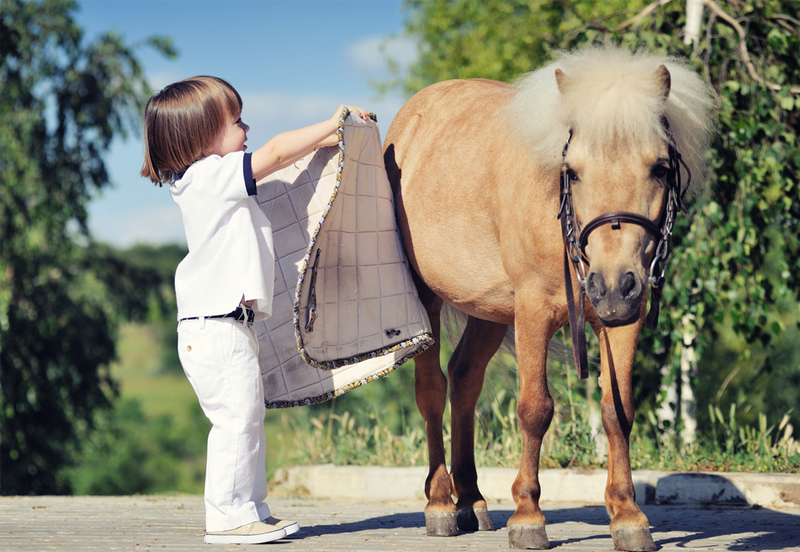 Buying a horse for yourself is a daunting experience. However, if you're buying a pony for your child, you can multiply that by ten and almost be in the right ballpark.
For those of you without a lot of experience in the horsey world, multiply that by another ten and then have a sit down. Basically, it's nerve-racking for us all!
Nobody wants to see their child perched on top of their new pony as it prepares to bolt at the sight of a leaf, so what can you do to make the best choice?
Here's our advice to guide you along the way.
Buy a pony for her ability and needs
First off, if your child rides, they should be attending riding lessons, so ask their instructor for help. With the riding instructor's understanding of their ability, combined with the instructor's general knowledge of horses, they should be able to give you a good steer.
It's a sensible idea to take them with you when trying out ponies, or at the very least, send over some videos of the trial for their verdict.
Age and height of your child
Next, the age and height of your child are important points. Typically, children up to the age of 12 ride 12.2hh ponies, at age 12 to 16 years they ride 14.2hh ponies, and then from 16 and up they move onto horses. If your child isn't the tallest or strongest rider, there's the middle size of 13.2hh to consider too.
For those over 16, horses start from 14.3hh and can reach 17hh+. Most riders settle between 15.2hh and 16.2hh as a ballpark range, but if your child is a bit shorter or less experienced, opt for something on the smaller side.
If you were challenging someone to a boxing match, what size of opponent would you choose? The same logic applies here!
Pony's age and experience
We've considered age and height of your child. Now we're thinking about your child's experience. This is where the age and experience of the pony is crucial. If you are both relative newbie equestrians, someone on the team needs to bring the experience, and that should be the pony!
Don't get anything too young – perhaps no less than 10 years old.
Some equestrian people might tell you that older ponies don't hold their value, which can be true. However, the good ones do and, if equestrianism isn't your livelihood, who cares anyway!
Trust me, if you buy a young, inexperienced pony for your inexperienced child, you'll be faced with costly lessons, a child with knocked confidence and possibly a serious accident.
So, ignore the value scaremongers and find a pony you can trust. Even experienced equestrians make this mistake themselves, time and time again.
A rule of thumb: if you see the word "potential" in an advert and your child is inexperienced, steer very clear!
Match the pony with the discipline
Consider the activity you're buying the pony for too. If you're unlucky, your child will be into eventing, which is not only expensive, but also deemed to be one of the more dangerous disciplines.
Apologies to all those parents who found this blog by Googling "how dangerous is eventing?"
Ponies for sale typically fall into one of the following categories: all-rounder, dressage, showing and show jumping. If your child is hooked on one – perhaps they want to be the next Charlotte Dujardin (join the queue!) – then focus on a dressage pony.
But if it's a bit everything that you're looking for, I recommend choosing an all-rounder. These will have areas that they're stronger in that can match your child's needs, so if your child has their dressage dream but still wants to try show jumping, shop around with that in mind.
Your pony budget
Finally, your budget is an important topic to consider when looking at ponies for sale – and is one that is often misjudged. Simply being able to afford a Ferrari, doesn't mean you should drive one.
Would you buy your child one of the fastest cars on the planet just after passing their driving test? No. Well, the same applies to ponies too.
Focus on what you're trying to achieve in buying your child a pony and search online for those criteria.
Make a checklist to help you hunt too. If it has to be 10 years old, 14.2hh, and an all-rounder that excels at dressage, narrow your search to ponies in that category.
Be sure to look at enough options to get a rough idea of what you should be paying and then stick to that budget.
Summary
Finding the right pony for sale is always a challenge, whatever your level of experience.
Using some of these tips as a guideline should make your experience finding the perfect pony for your child that little bit easier, and using the Whickr App to browse and find the right pony for her needs is easy too. Happy hunting!