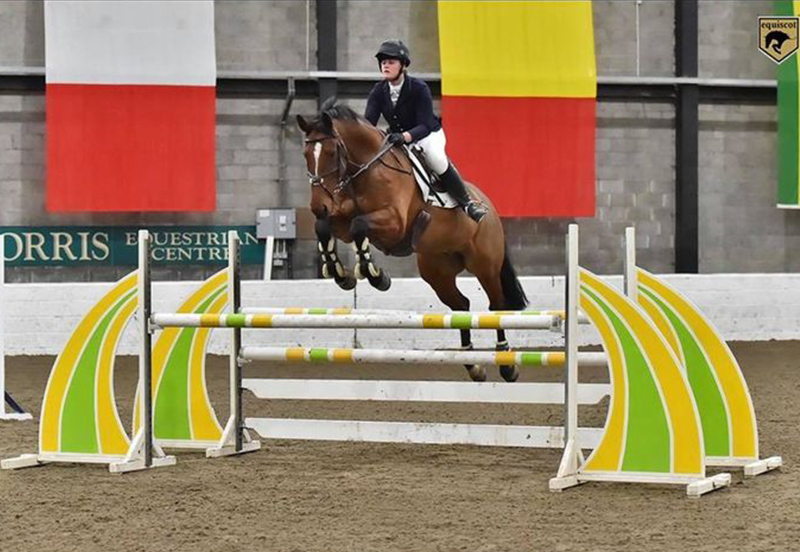 At Whickr we love hearing and sharing people's stories. In this blog, Andrew from Whickr interviews Eve Nicoll who found her dream horse by viewing horses for sale on Whickr.
1. Let's start with how long have you been riding for and what got you hooked on horses?
I started riding when I was 12 years old at a local riding school in the very north of Scotland. I was fortunate enough to be given a little 14.2hh Welsh Pony from my parents for Christmas in 2015. As much as they hoped it was a faze, I loved horses from day one and that hasn't changed.
2. Can you tell us about your horse?
I currently own a 17.1hh, 13 year-old warmblood horse called Sheldon, who I found using the Whickr app. He's the most easy going and kind horse I've owned, and my family and I absolutely adore him.
3. You bought Sheldon during a pandemic, what has been the most challenging part of owning a new horse during the last twelve months?
Lessons and competitions are very limited if any at all. After I bought Sheldon I was desperate to get out competing again and have some fun with my new horse. Nevertheless, it gave me plenty of time to get used to him without any pressure.
4. Has there been any unsuspected benefits to buying a horse during these odd times?
It gave me and Sheldon a chance to bond and get to know each other. This helped my confidence grow, meaning we can give the 2021 season a good go.
5. Now things are returning to normal, what are you and Sheldon up to for the rest of the summer?
I'm hoping to get established at BS; British Novice and Discovery. He's a powerful horse so I want to take my time with him and have fun. Possibly the odd eventing competition and lots of local lessons.
6. Beyond the next couple of months, do you have any longer term goals for you and Sheldon?
I'd love to be established at Newcomer (1.10m) level and eventually go around my first Novice in years to come, but mainly to have fun.
7. Circling back to when you bought Sheldon, how did you hear about Whickr?
I came across Whickr from an ad on Facebook. I had it installed and looked at it everyday, even though I wasn't looking for a horse, I came across Sheldon and instantly messaged.
8. How was the experience compared to other websites and Facebook?
The experience was good and easy going. I used the filters to find what I was looking for. Multiple ads popped up and I was able to look at photos and descriptions, as well as the owner's location which made the search easier.
9. What did you like the most about using Whickr?
It was quick and easy to use. I was able to filter what I was looking for and seeing the seller's location.
10. After buying Sheldon using Whickr, would you recommend it to friends?
I would definitely recommend it to friends – I have been ever since! I have had lots of people asking me where I got my horse from and I always tell them to have a look at the Whickr app.
11. Finally, if you could own any horse from the past or present who would it be and why?
The one I have now, Sheldon. He's been a star since I got him.
---
If you or someone you know has bought a horse using Whickr, please get in touch we'd love to hear how you are getting on. And if you would like, we can also share your story on our blog, too. Please contact us on our social pages or email tackroom@whickr.com.