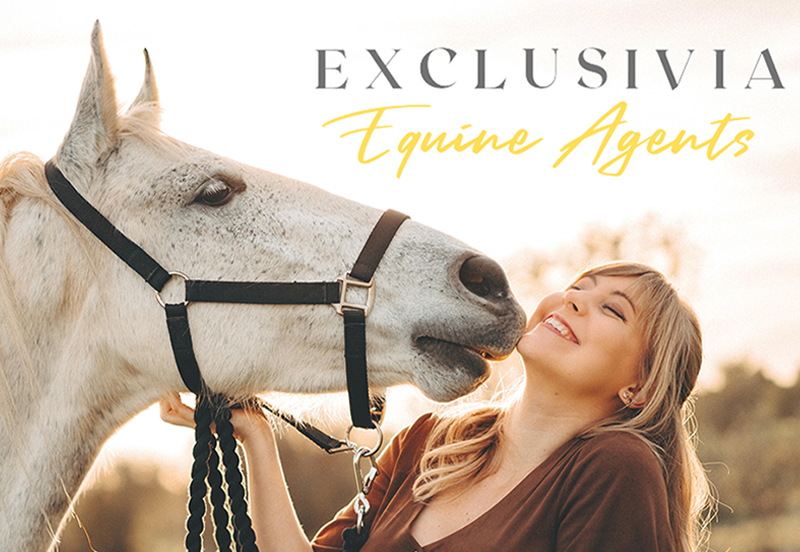 In this Interview Andrew from Whickr sits down with Sasha Ashleigh the owner of Exclusivia Equine Agents, an equine agency that helps horse buyers. They discuss what type of services Exclusivia provides to buyers looking for a new horse, and why potential buyers of horses (and ponies) are best to consider using an equine professional to source horses for sale.
1. What is it that you do as an agency that helps horse buyers?
Exclusivia Equine Agents supports clients looking to find their new horse or pony to welcome into their home. We source horses for sale with bespoke requirements requested by the buyer, from height, age, competition experience and sometimes even colour!
We take the stress out of the buying process by engaging with both professional sellers – horse dealers and producers, and private sellers. With the client's requirements and our knowledge and expertise of the market for buying horses we act as a filter for the client, and with our contacts we also have first look access to horses who are due to be advertised for sale but are not available on the market yet.
We work closely with our clients every step of the way, reassessing as we go to ensure we find a suitable match. Clients can have as much or as little support as they require from start to finish. We will arrange the booking of multiple viewings on routes, vetting and transport quotes, and when the buyer has their new horse at home, we'll even help with finding instructors for riding lessons, saddle fitters, equine dentists, and everything else that we can.
2. Do you find horses for buyers across the whole of the UK?
Yes, every inch of the UK, no matter where you are located, we can help. We have a minimum of a 3-hour radius (unless rural) from where you are located – but ideally the further you are willing to travel broadens our search.
3. Is your service helping horse buyers commission based or a one-off fee?
Exclusivia has flat fees, no hidden costs and takes absolutely no commission. It is a tiered package, we have Bronze, Silver and Gold packages to choose from depending upon your search criteria and how much help is required. Each package can be tailored to suit your needs. Every client we help receives a free lovely gift in the post upon completion when their new horse arrives home.
4. What do your clients like about your service that helps with buying horses?
First and foremost, we have flat affordable fees so our customers always know where they stand financially. We offer a professional but friendly service with expert knowledge of the buying and selling market. Each of our clients are allocated a dedicated relationship manager to be as involved as necessary with every step of the journey.
We feel it is also important that we offer trust and credibility by being a fully compliant and registered company with all packages including a pre-approved solicitor contract – so any potential customers know all business with us is safe and secure.
5. Do you find demand is growing?
Yes – There is no set 'process' for buying a horse and it can be a daunting experience, even for those who have been around horses for many years. Exclusivia provides guidance and support from start to finish. Through feedback from previous happy customers, we know that having a dedicated equine agent at the end of the phone throughout the journey can give clients comfort when needed.
6. Why do you think that is?
The market for buying and selling horses has changed, since COVID with the price of horses for sale increasing we are noticing buyers are willing to spend more upfront to make sure they purchase a horse advertised for sale that is suitable.
Alongside price increases of horses, we are seeing an increase in demand for a certain type of horse especially coming into spring. Everyone wants a nice all-rounder ready to enjoy the long summer days whether it be showjumping, eventing, beach rides or hacking through the woods.
The increase in demand for these nice all-rounder horses especially at a price point which most can afford means those horses for sale don't hang around long. Our customers have the benefit of us being entrenched in the equine community and being able to move fast when we need to. We get many clients who have been looking for a new horse by themselves for weeks, months and in some cases over a year.
7. What do you like the most about your job?
We understand that buying a horse can be an emotional rollercoaster, but it should be an exciting experience not a stressful one. We love being able to take the stress out of buying horses and make every client's experience enjoyable. And more importantly we love the end result of sourcing and placing a horse with one of our customers to love and enjoy. The 5-star reviews from previous clients on our Facebook page speak for themselves.
8. How did you get into this area of the equestrian industry?
Through having horses since a young age, friends and family too, I saw many issues over the years with buying horses. I wanted to help and felt there was a gap in the market for a trusted business with a strong reputation to be a part of the buying experience, removing some of the pain points and making the experience as best as possible for people looking to buy a new horse. Plus coming from a legal background has helped make sure everything that we do is correct and to the highest standards whilst supporting our customers.
9. What's next for Exclusivia Equine Agents?
Oh - we can't give away all of our secrets, but we are constantly evolving as a company and have some exciting things planned for the year ahead. Stay tuned and if you are looking for a horse or a pony to buy and would like to even discuss the idea of having some help from professionals who live and breathe the buying and selling of horses market, please get in touch as we'd love to help.
---
If you would like to find out more about Exclusivia Equine Agents and how they might be able to help you buy a horse, they are contactable via Facebook, an enquiry form on their website http://www.exclusivia.co.uk and email equineagents@exclusivia.co.uk. Get in touch for a free no obligation phone call appointment.