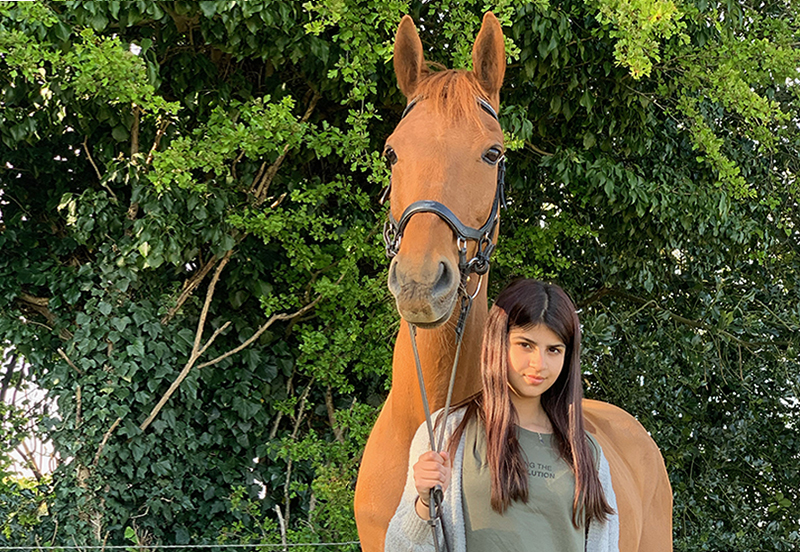 In this blog article we get to hear from Alayna, she found her perfect horse advertised for sale on Whickr. Alayna explains what inspires her, who her role models are, and more importantly, tells us how Stan is getting on and what the future holds for the partnership.
Alayna is a member of Cool Ridings Equestrian, a club foccussed on encouraging diversity in equestrianism.
1. How long have you been riding for?
I have been riding since I was about 3 years old. My older sister had a pony called William and I learned to ride on him. He was very cheeky but taught me a lot, mostly how to stay on!
2. Where did your passion for horses and ponies come from?
With my older sister riding, we spent most of our time at the yard. There were lots of kids on the yard and we were all pony mad. If we weren't riding a pony, we were taking the lead ropes and pretending to be ponies! If the older girls had left a course up, we would pretend to ride around it. It was always an Olympia Horse show in our heads and we were jumping Grand Prix courses! We still do it now, but only if no one is watching. On rainy days we would sit and draw our dream yards and horseboxes and name all the amazing horses we would have!
3. What's your favorite discipline and why?
I tried lots of disciplines with my old pony, Wally. I've always liked to try different things and find the discipline that my ponies and I both enjoy. From pony racing, mounted games, showjumping, hunting, polocrosse to horseball. Stan is obviously too big for some of those disciplines so we have been working on his strengths. We have enjoyed jumping and flatwork, so we are now going to focus on showjumping and eventing.
4. Where or whom do you take your inspiration from?
I've been a member of Pony Club since I was about 7 and it's given me lots of inspiration. My amazing instructors have helped to push me and keep me motivated. I've made some really good friends and they have been very supportive. Watching my older sister, her friends and my mum's friends competing at places such as Addington Manor, Bury Farm, Hickstead and Rockingham International has inspired me in so many ways. These places can be a bit scary but I remember the fun we've had there and it makes me want to compete there as well! Our annual trip to Badminton has always made me want to event, I love cross country day.
5. What is it like being a member of the Cool Ridings Community? It looks like a really great club
Its early days and we are still getting to know each other but everyone has been so kind and welcoming. Being on the same team with people that have achieved so much already is amazing. I like that we are all so different but we support and encourage each other. I am really excited about our future together as a team and supporting each other as individuals.
6. You recently found your dream horse using Whickr App, could you tell us a little bit about him?
We'd been searching for a new horse for about 6 months and had been all over the country. My mum was fed up and with Christmas coming she decided we should have a break and wait until spring time. So that night I had one last look on the Whickr app and that's when I saw Stan's advert with JL Equestrian. He was an 8 year old, 16hh Chestnut, warmblood x BRP (Willow Croft Regal Bronze x Catherston DC). He had very low mileage and was much bigger than I was really looking for! But he was very cute and had such a kind eye, so I asked my mum if we could do one more road trip. My older sister rode him first, she is helping me with his training and she really liked him. I tried a lot of ponies and horses but never felt they were the right one for me, until I got on Stan. He was almost everything we weren't looking for but he was the right one.
7. What are your goals with him?
Stan has very low mileage for his age so we are taking it slowly. We are getting him out as much as possible to training sessions and PC rallies. He has attended his first Horseball session and loved it. Although I can't compete with him because of his height until I'm 16, I will keep up the training. So, we will focus on Eventing and maybe some Showjumping. I'd really love to take him to the Cotswold Cup event next year and represent our PC Branch.
8. If you could choose a professional equestrian relationship to strive towards, who would it be?
I really respect the relationship professional riders such as; Nick Skelton, John Whitaker, Mary King, Carl Hester and Charlotte Dujardin have with their horses. Whenever I've heard them talk about their horses, I admire the way they treat them and how they're not just tools of the sport. I also have a lot of respect for people like Emma Massingale who works at Liberty with her beautiful herd. There's something very special about a horse that wants to do what you ask, when it has the freedom to just walk away.
9. What do you think about Whickr shaking up the way you can buy horses using an app?
Everyone is on their phones these days and we all use apps to make life easier. With pages such as Facebook stopping the sale of horses and ponies we need somewhere to shop. Horses and ponies are selling so quickly at the moment, you have to act fast and the app helps you to do that.
10. What did you like most about using Whickr App?
The app made it so much easier to find a horse rather than scrolling through website pages online, the layout of the app is much nicer on a phone. I liked the direct message feature the most because we were losing track of who we'd contacted and which horse or pony they had! It's definitely a more efficient and easier way to buy a horse or pony.
11. Would you recommend Whickr to fellow equestrians?
I know of so many people right now, trying to find a horse and I constantly tell them how amazing and easy it was to use.
---
If you have bought or sold your horse using Whickr and would like to share your story, we would love to hear it! Please get in touch either on our social pages or by email, tackroom@whickr.com, thank you.