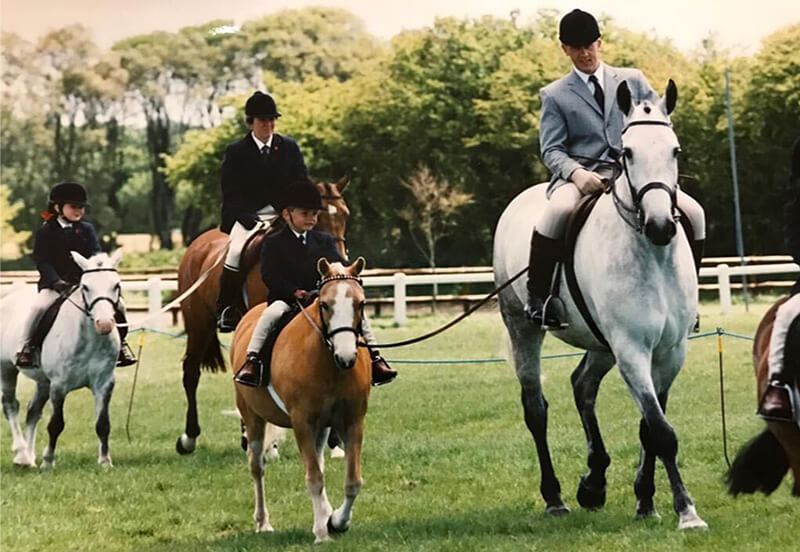 Children with a super first pony will learn and develop confidence much quicker than those who are over-horsed due to mistakes made by their parents. Finding your child the perfect first pony is a huge responsibility – your decision is likely to affect their entire future experience of riding ponies and horses.
So if you're looking to buy your child's first pony, it's worth checking out these seven tips that I know will help.
1. Focus on experienced ponies
First ponies should be experienced – the more experienced the better, and with experience comes age! Older, more experienced ponies are like gold dust, but exactly what you should be looking for. In a first pony you want a "been there and done it" type, one that has taken jockeys to their very first outing and been around the block a few times. When your child is learning to ride, you want the pony to be the one with the experience so that when your child inevitably makes a mistake, the consequences of that mistake are less severe or even non-existent because the pony knows its job inside out.
A younger pony may be less forgiving, not because it is nasty, but because it doesn't know what to do and therefore needs an experienced rider to provide an education. This is why combining a young pony with an inexperienced rider rarely works out as desired by the parent.
In my opinion, when you're searching for a first pony, anything younger than 10 years old shouldn't make it past the first round. I also wouldn't rule out a pony that feels too old – there are top 128cm competition ponies who are still going strong in their twenties!
2. Small ponies are better for beginners
As well as an older pony, ideally you want your child learning on a small pony relative to their height. A small first pony will make your child feel safe. This will increase their confidence and their safety too. On a small pony, should anything happen unexpectedly, at least your child has size on their side. On the other hand, if your child is riding a pony that you've bought for them to grow into and is essentially too big for them at the moment, if and when something goes wrong, their level of control will be inadequate, which may result in an accident and this could knock their confidence irreversibly.
As a guide, children aged 10 and under should not learn to ride on anything bigger than 12.2hh. If your child is older than 10, looking at Connemara ponies for sale is a worthy recommendation.
In summary, it's worth remembering that a first pony is not a pair of Clarks shoes – there is little to be gained from buying something to grow into – this will only run the risk of damaging their confidence and development in the long-run.
3. Ask to speak to the previous owner(s) of the pony
Buying an older pony means there should be at least two previous owners who you can get a character reference from. Ask the current owner of the pony to put you in contact with the previous owner – they have no economic incentive to get creative with the truth and will be able to provide you with more information on the pony's background, experience and behavioural traits.
4. Your budget for a first pony can probably be lower than you think
Speaking from experience, an old, confidence-giving-type-pony for your child to learn how to ride on the lead and progress to doing a bit off the lead rarely costs the world. If you as a parent have little experience as an equestrian, sometimes having a healthy budget for a first pony can be a detriment. Learning how to ride on a safe pony shouldn't be expensive.
However, if you're looking for your child's first pony to compete to the highest standard and come with a gold-standard safety certificate, they are incredibly expensive, in fact, more so than many horses for sale – why? Because having a top-class pony who will win red rosettes and championships but is also safe enough for your inexperienced child to learn how to ride is worth every penny.
So how much should you spend? If I was looking for a first pony for my child to gain confidence and learn how to walk, trot, and canter independently I would probably cap my spend at £2,500 and would certainly be prepared to look at much cheaper ponies. However, this can vary on other factors too, such as location. If you're based in the Cotswolds, for example, unfortunately you can expect to pay more!
5. Buy a pony for today's job, not tomorrow's
This point echoes the earlier one I raised about size and not being tempted to buy a pony your child can grow into – as this goes for experience too. Focus on buying a pony for the job required today – learning up downs in the field off the lead or going out hacking led by mum. Buying a pony and knowing that it isn't quite perfect for the role today only increases the likelihood of your child losing their confidence, which at a young age can have long-lasting consequences. Horse riding lessons will help your child grow in experience and skill for tomorrow's pony, which you can progress to as and when your child is ready.
6. Don't buy a 'first pony' being ridden by a small adult
A 'first pony' being ridden by a tall, experienced child or a small adult probably isn't a first pony at all. Ponies ridden by experienced riders are either quality, sharp, or still require an education, which is fine for a second pony but not for learning up downs.
7. Speak with your local Pony Club
My final piece of advice to help improve your chances of success in finding the perfect first pony is also my favourite. Good first ponies are rarely advertised for sale, instead they're earmarked for their next jockey while still teaching their current jockey the trade. Plan ahead of your first pony purchase by getting friendly with your local Pony Club District Commissioner in advance. A Pony Club DC will often know what ponies in your area are suitable first ponies and which ones are likely to be coming on the market soon. If all goes to plan, you can secure a pony for your child before it's even advertised, with a reliable recommendation from a Pony Club DC.
To wrap up
Good luck on your search for the perfect first pony for your child. It is not an easy challenge and does require a bit of research on your part but it will be worth it when you see the progress, enjoyment, and long-lasting happy memories your child will make on what is a true first pony.
By the way, that's me in the photo on my first pony. Her name was Champagne and she cost £600, although that was 27 years ago! Who knows, it may be all down to her that I've ended up taking this horsey path in life and co-founded a horse and pony-selling app called Whickr. So I take this opportunity to raise a glass of Champagne's namesake to give a well-deserved cheers, to all the wonderful first ponies out there – we love you and are forever grateful.