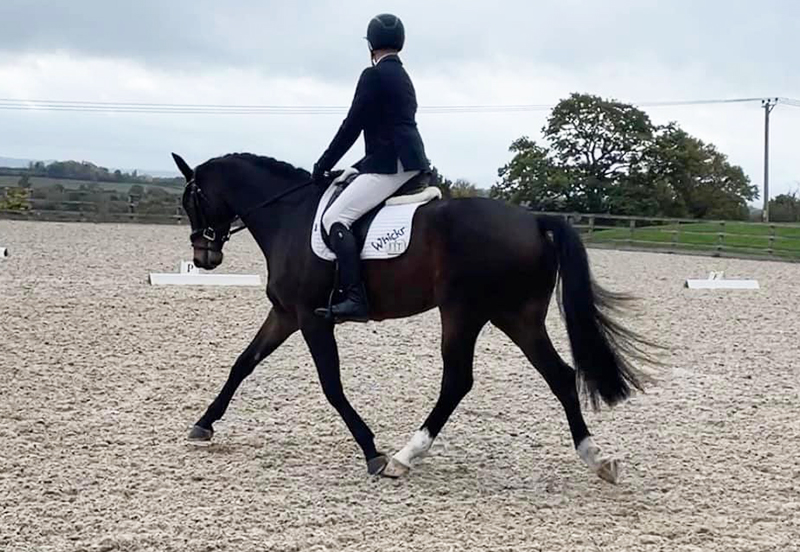 I am writing this post during the great freeze that has swept down and impacted the UK. As an equestrian, being cold in the winter is part and parcel of enjoying the sport of horses. You're either the prepared person at the yard waltzing around wearing fleece lined wellies and waterproof, warm gloves, or you're the doughnut who always forgets to wear gloves and tries to wear trainers for most of the year – I'm the latter. It's not the cold that is a concern but the freezing is an issue; no water, frozen lanes, an ice rink for a yard, and to top it all off you can't even ride!
My young horse
I have a four year-old who I have brought on slowly. Although that's a subjective statement, one horse person's slowly is another's horse version of when children under the age of ten worked 14+ hour days, 7 days a week during the industrial revolution of the 19th Century.
The downside of my horse enjoying summer lie-ins, manicures and beach rides is the realisation that the event season starts in Spring, it's already October and my young event horse can't canter. An oh (insert word) moment raced through my mind. Being competitive and aware of the easy breezy life my youngster has enjoyed, especially with his flat work, I decided it was time we got our act together and started dressage training.
To make it more enjoyable because training a young horse at 6am in the pitch black during weekdays to walk, trot, and canter, mainly on twenty meter circles, isn't the most exciting of tasks, we needed a goal where the outcome would be a horse and rider combination with much more finesse between the whiteboards than our current trajectory was forecasting. That goal I decided was the Prelim Petplan Final at Hartpury.
Not a small goal when it is early October and you have until December to qualify for the Area Festivals, where the top two competitors of each Area Festival qualify for the final. If life isn't already challenging enough as an amateur equestrian, trying to balance riding my horse before work, running a startup, and maintaining a relationship with another person.
The dreaded dressage training
I take my young horse to have dressage lessons with my coach who is also my little sister. It took years of eating humble pie and therapy for me to accept my sister's superiority at riding. However, the free tuition helps soften the blow but the evaluation of where we are and where we need to get to in not very long wasn't good. The short and polite feedback was along the lines of, "you idiot, you've waited too long, why didn't you come and see me sooner and then what you're trying to do would be more achievable."
A fair analysis, but twenty meter circles are boring, dressage shows aren't my cup of tea, there's way too much sparkle everywhere and I can never understand the judge's comments!
But I am prepared to fully immerse myself in the dressage world to improve the prospects of my event season by trying to qualify for the Prelim Petplan Final at Hartpury in April 2023.
Armed with my sister's training plan which included training, working and rest days, I couldn't help but feel that it was just as much a hint that I should get in shape as well, minus the balancer and lunging. Learning to ride dressage and doing it on a young horse I have morphed once more into a novice rider, although this time I am an adult which gives me a lot of respect for any adult learning how to ride a horse.
Dressage training at home
For myself, some of the things I have to remember are; don't stick your bum out, stick your lower leg back, elbows in at all times, shoulders back, don't tense your lower back, don't look up so high and forward you look like an idiot, breathe your upper body higher, use your core (whatever that means).
At the same time, I have to teach my young horse to remain supple, with a light, consistent contact, but not leaning. I interpret this as the contact must be with his head pointed forward rather than head facing the floor but I'm guessing at this stage. My horse is also weak in the canter, with one gear which is forward – the result of the summer holiday we've enjoyed down the beach building sand castles. He's also not the biggest fan of always coming through from behind, he finds it easier to pretend he's doing it by sticking his head in the right place. This too is apparently something I need to work on by kicking with my inside leg into my outside rein when he's pretending to work. Don't ask me what it means. If you ever want to sound like you are a dressage instructor, shout "inside leg and outside rein", no-one will dare ask you what it means out of fear of sounding stupid.
British Dressage and Petplan
I registered my young horse and I with British Dressage and searched for Petplan Prelim Area Festival qualifiers. What I've learnt is a) they rank you in a similar way as we rank precious metals, gold being the best and bronze being the worst – that's me, b) I need to look for a W and a Q next to the class or they don't count towards qualification, and c) that three scores above 60% qualify you for one Area Festival and you can qualify for as many as you want at my level. My aim is to qualify for two Area Festivals so if I mess things up the first time, I can have a second swing, and if that doesn't work, I can chalk it down to experience leaving dressage to my sister and get on with the event season.
My first dressage show
For my first show at Prestige Equestrian I decided to go with my sister who was also competing. I stayed at hers the night before, and whilst we were chatting my first error was highlighted, I can't plait and my horse is far from a native. At thirty two years of age you'd think I would've learnt how to plait. However, if there is one thing I know as being a guy who is an equestrian, there is always a kind hearted woman who takes pity on you and will plait your horse. These lovely women start off as being parents or grandparents, then friends/ show buddies and eventually your equestrian partner will plait in return for non-horsey chores being done around the house.
Convincing my younger sister is a different story altogether. As I explained to my sister that she would need to plait for me, the glare I received back would knock down a thousand men, but as her older brother I stand strong and with the art of sibling mind control she disgruntledly yields and agrees to plait my horse at stupid o'clock in the morning. Another reason I was in the bad books, my test was at 8.30am and my sister's first test was at 11.45am. My losing streak was continuing but after dinner on me down the local, I won some ground back.
It's competition day, we wake up at stupid o'clock, my sister plaits my horse and at lightning speed. This is where I learnt about a product called Quick Knots which makes your rolled up plaits look amazing and you just need to be able to plait down – mental note to self, buy Quick Knots. We make it to Prestige Equestrian with no time to spare. Luckily my sister transformed into my groom and we were on and in the warm up in five minutes, with two numbers! Again, new news to me, I thought I was being smart and prepared by bringing one set of numbers, it turns out you need a number on either side. Sister saves the day again.
As I am going round the outside of the arena waiting for the bell, my sister is yelling instructions, "do transitions", "keep his head slightly higher", "breathe your frame higher", "more trot"… More trot why does every dressage instructor want more trot? I can't even ride the trot that I've got. I'm not Edward Gal riding the late, great Totilas, I'm a thirty something, slightly tubby, average amateur eventer rider on a youngster who has been living his best life all summer. The trot I've got is fine thank you very much.
The scribe rings the bell from the judge's hut and my sister starts calling (shouting) the test at me. As we're going down the centre line, I think great, one more thing to think about, listening to where I am supposed to be going. The movements are called well in advance as they should be apparently so along with everything else I am trying to remember that I have been practising at home, my short term memory is also put to the test. It's a 60 x 20 arena so we finish our test halting at the middle marker closest to C – whatever random letter that is. I salute and give my horse a big pat, relieved it was over. We got 60.8% at our first attempt of dressage, squeezing ourselves just into the qualifying zone – result!
Next test with a little more confidence and more advice from my chief dressage instructor, we got another qualifying score of 64.58% – watch out Charlotte I thought, we're coming for you. I attended a couple more dressage competitions with my sister, but plaiting became a mandatory requirement in return for her free assistance. We attended West Wilts and back to Prestige Equestrian for my final show with my instructor's attendance. It went well, with a heavy dosage of good luck we managed to bag another three qualifying scores, giving me 5/6 to attend two Area Festivals and a PB of 68.79%.
Riding solo versus with help
Now flying solo, I have two more competitions available in my area with qualifiers. I enter the one that is soonest with my confidence high that 6/6 will come easy. That was when it happened, as Mike Tyson famously said "Everyone has a plan till they're punched in the face". My punch in the face came when it dawned on me that my young horse as we've been on this journey has been growing in confidence, strength and with that has become much more opinionated. I couldn't get him to canter without him trying to avoid doing it properly by running as fast as he could on the forehand. Don't worry pony-patters, I had his teeth, back and saddle checked to ensure it was a difference in opinion rather than pain.
Our local horse whisperer spoke with my prince and she informed me that he told her he is sick to death of twenty meter circles and wants to do something more interesting.
As we clearly weren't in a position to complete the test I had entered for, unless you replace canter with gallop, I withdrew my entry and took him showjumping instead, hoping the variety and some time away from twenty meter circles might make my youngster a bit more tolerant before our last and final attempt to qualify for two Area Festivals.
What I've learnt is flying solo is way more difficult compared to having someone experienced by your side at a show. Rather than being told what you are doing right, what you are doing wrong and when to do it, you are second guessing yourself every stride and certain that you are going to mess things up.
My last attempt was at Burrows Court Farm, there was only one qualifier at the competition and I was without my instructor. In the build up to the competition my young horse had become a little more agreeable to a measured canter however it was inconsistent at best. With nothing to lose, being inconsistent was better than being consistently terrible so I took a gamble. With a couple of mistakes from both of us and a couple of percent removed for going the wrong way – whoops, we managed a respectable 65% to clinch our second ticket to an Area Festival.
What's next…
Now approaching the end of December, I have six weeks to turn our inconsistent 60 something percent to a consistent plus 70 percent if I am going to be in with a shot of qualifying for the Winter Petplan Championships. The advice from my instructor is wise "keep doing what you are doing", "lose some weight and feed your horse more as he needs it to carry you"… thanks instructor.