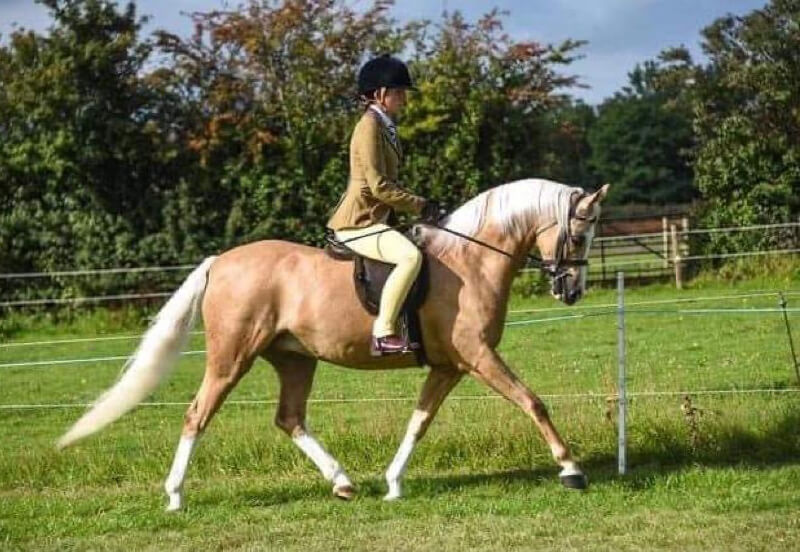 Small and elegant, the Welsh Section B, known as the Welsh Pony, is the second breed of the Welsh Pony and Cob Society studbook. Often ridden by older children and small adults, they make great competition ponies.
What is a Welsh Section B?
Of the four Sections of the Welsh Pony and Cob family, the Section B is the finest in appearance, bearing the legacy of its more recent Arab ancestors. In the UK Welsh Section Bs stand at a maximum height of 13.2hh, but American ponies can reach 14.2hh. They can be found in all solid colours.
The Welsh Section B is an intelligent and kind pony, with a bold and spirited temperament.
Other than their height Welsh Section Bs have the same breed characteristics as the Welsh Section A, although they are more of a riding pony type, with a lower action and less stocky build. They are elegant and athletic, but retain the hardiness and substance of the Welsh Section A, reflecting their genesis on the harsh Welsh hills.
History of the Welsh Section B
The Welsh Section B was bred from the foundation stock of the Welsh Section A, with the introduction of Arab, thoroughbred, and Hackney blood adding height and refinement. Tan y Bwlch Berwyn, who was by a Barb stallion and out of a mare of the Dyoll Starlight family, is considered the most influential Section B sire. Dyoll Starlight is the foundation stallion of the Welsh Section A.
Originally used for transport by shepherds and hill farmers, the Welsh Section B was given its own entry in the Welsh Pony and Cob Society studbook in 1931, and has been a sought after riding pony ever since.
What Disciplines do Welsh Section Bs Take Part In?
Welsh Section Bs are best known as children's riding ponies, although their height means that they are more than capable of carrying lightweight adults. Smaller Welsh Section Bs can take part in first ridden showing classes, and the larger animals have a range of showing options. Their build means that some Welsh Section Bs are plaited and shown in classes such as Show Hunter Pony, as well as their Mountain and Moorland options.
As a breed they are very athletic, and have been successful in showjumping classes, both unaffiliated and those affiliated to British Showjumping. Their smooth action and trainability also makes the Welsh Section B a great option for dressage, and they are an ideal Pony Club pony.
Welsh Section Bs are the perfect step from ponies to horses, both in height and temperament, something to consider when buying a pony for your child.
However, they are so versatile and talented that many teenagers hold on to their childhood ponies, and those who are small keep riding Welsh Section Bs into adulthood.
Key Characteristics of the Welsh Section B
The Welsh Section B has the same breed standard as the Welsh Section A but can be registered to a maximum height of 13.2hh. The Welsh Pony and Cob Society further describe the breed as "a riding pony, with quality, riding action, adequate bone and substance, hardiness and constitution, and with pony character." While they have the same height restriction as the Welsh Section C, the Section C is "of cob type" and conformationally has more in common with the Welsh Section D.
In conclusion
As a children's riding pony, the Welsh Section B cannot be faulted. Athletic and adaptable, the Welsh Section B is suitable for a range of disciplines, and its lighter build means that a single pony can enter numerous showing classes. With a kind but clever temperament, these ponies are suitable for children and adults, and with their sporting credentials it is unsurprising that they are popular with both.