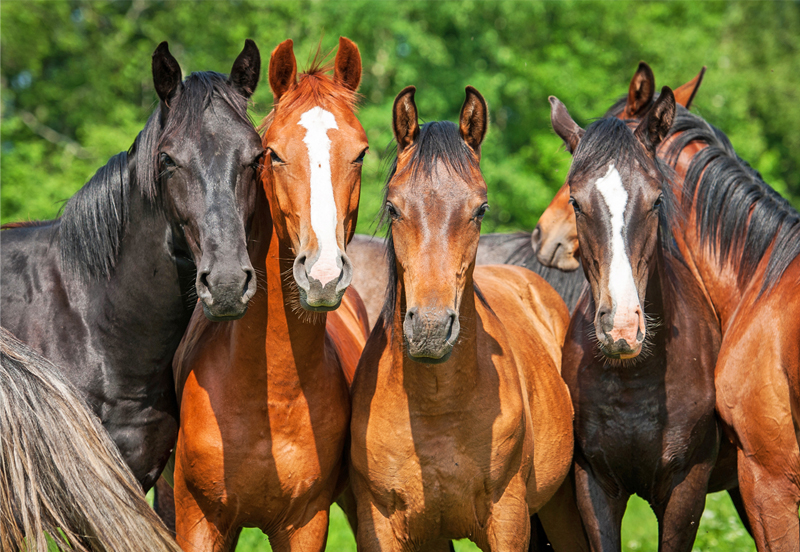 Browsing a popular horsey Facebook group the other day, I stumbled across an intense discussion thread about a certain "horse dealer" (disclaimer: I hadn't heard of the person in question before).
Needless to say, the flow of comments reflected the heated back-and-forth that I'm sure we've all read at some point.
This time, though, it got me thinking. When we're searching online for horses for sale and find a seller that is also a horse dealer, is there any way to check out how reputable they are?
Have you had that thought too?
After all, there are plenty of reasons for buying a horse from a horse dealer. Most are genuine, honest people trying to earn their living in the equestrian community. That's a hard task in itself, even without the hassle of the small minority who cast a shadow over the whole industry!
So, how can we square this circle? After a lot of thinking here at Whickr App, we've put together three quick fire tips to help protect you if you're buying from a horse dealer.
1. Every horse dealer should have their own website
There are probably some older, more old-school horse dealers that perhaps don't have a website but there's always an exception to any rule.
Every modern, reputable horse dealer should have a company website. It should allow you to view their horses for sale, the horses they've sold in the past and provide basic contact information including their name, phone number and farm address.
To put it simply, no website should be a major red flag.
A website is somewhere the owner has complete control, and as we've seen in recent months, reliance on third parties to provide a shopping platform for an equestrian business is dangerous. Facebook continues to enforce the ban of live animal sales, removing adverts of horses for sale, closing down popular horsey groups and sometimes business pages too.
So, after all of that, why wouldn't a horse dealer have their own site?
It's also incredibly easy to put together your own website. There are plenty of platforms to help you do it, including companies like WordPress or Wix.
To demonstrate how easy a website build can be, I used Wix to create my own horse dealer site. I simply bought a domain name from GoDaddy — for just 99p! — and put it together in less than an hour.
Take a look at andrewthehorsedealer.com to check out all my beautiful horses!
2. Every horse dealer should have a business Facebook page
Yes, it's true that Facebook is now enforcing much stricter rules around the sale of live animals (including horses) but this shouldn't stop horse dealers from having their own business Facebook page.
Around half of the adult population in the UK are regular users on Facebook, so it's fair to say that a horse dealer would be crazy to not want a piece of that action!
It's almost certainly the second place someone who is looking to buy a horse will head to in order to get the measure of a potential dealer – perhaps even the first.
We all know the feeling of meeting someone for the first time or hearing a friend mention a new name, then immediately whipping out your phone and tapping on that blue icon to search for them.
Don't we all do the same with companies too, including horse dealers!?
Facebook shows you testimonials of past happy clients, customer reviews, and the dealer's own thoughts and views on industry events. Perhaps you'll even hear about what their favourite stallion is and why.
Not to mention, a horse dealer with their own website can share a link on their Facebook page, allowing potential buyers to browse horses for sale without risking a Facebook suspension. It's another platform for horse dealers to build credibility, trust and their profile in the industry.
If a horse dealer didn't at least have their own Facebook page, I'd definitely be scratching my head and wondering why.
3. Does the horse dealer have bank details that match?
A horse dealer conducting business as a sole trader or a limited company should absolutely have a bank account name that matches the name of their company.
If you have a feeling that something isn't quite right, it's wise to double check their bank details before moving ahead with your final payment.
Yes, some smaller horse dealers may not have a company bank account, but their bank details should be in their own name at the bare minimum!
If you're about to make a purchase and the bank details you've been provided don't appear to have any connection to the person you're buying the horse from, then my suggestion is to put your money back in your pocket and run away – fast!
In summary
There are so many things to consider when buying a horse, and who you're buying from should definitely be included on that list.
These tips are intended to provide useful steering for horse buyers. Yes, you may know a horse dealer who has no website, no business Facebook page and very odd looking bank details, but is as reputable as they come.
We're not saying it's an impossibility!
However, if you find yourself in a situation where you're unsure whether the horse dealer is genuine – or if you're concerned the horse you might buy isn't being advertised accurately – we hope these tips point you towards the right questions to ask.
It can be incredibly hard to walk away from a potential horse purchase, even more so when it's because you doubt the credibility of the seller. But in the long term, you may save yourself a lot of hassle.
We hope you found something useful to take away from these tips. What are your pearls of wisdom about horse dealers? Share them in the comments below!