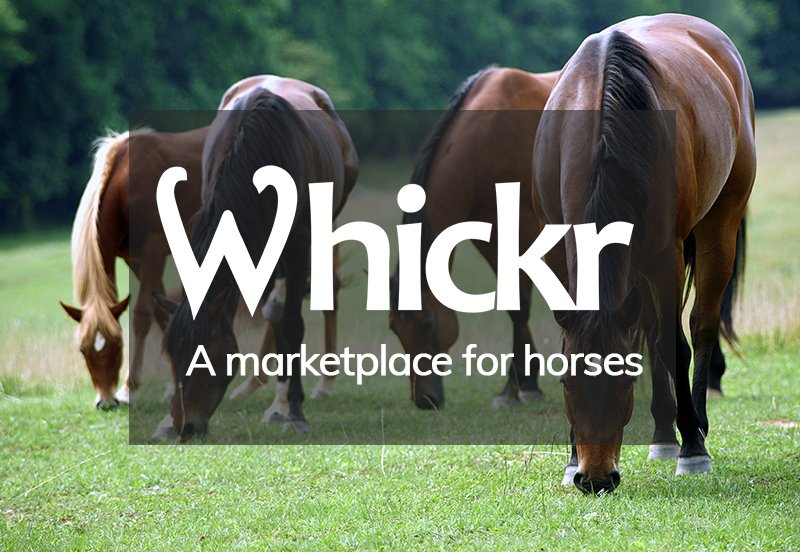 We are proud to announce our marketplace for advertising and viewing horses for sale is now available on both web and mobile app. Our mission, for the benefit of all equestrians, is to build a centralised marketplace that is both easy to use and invaluable. There is still so much to be done but our new website is another step towards achieving our goal.
Thanks to everyone that has been a part of the product launch; design, development and testing. We couldn't have done it without you!
If you want to be in with a chance of winning a horse, the details of how are shared towards the end of the blog.
What is Whickr Web?
It is an online marketplace for horse sales that can be visited via the web at whickr.com. Potential buyers interested in viewing horses for sale can visit our website and scroll through the list of horses advertised for sale.
Serious buyers looking for something specific can personalise the list of horses using filters and sort; disciplines, age range, height and budget, alongwith entering a location and filtering by distance. Finding horses for sale that match your criteria to then find they are too far away is disappointing, that is why our easy-to-use filters to find horses for sale nearby are crucial for equestrians with the intent to buy a horse. With photos, videos and YouTube videos supported by our marketplace, buyers can view more content than ever before on a horse selling site; increasing the likelihood of finding a suitable horse.
For sellers, the multimedia advert package promotes horses for sale in a flexible format. We want to help attract potential buyers to enquire about your horse advertised for sale. Adding engaging video and YouTube videos of your horse at a competition or on a beach ride will encourage more people to contact you. Our create advert process has been condensed down into the simplest and most direct route. Payment can be made using card details, or for mobile users, Whickr Web supports Google and Apple Pay.
Sellers who identify as yards can use their Profile page as a portfolio of their work; showcasing current horses for sale and previously sold horses.
Why launch a horse selling website?
Whilst launching a web version of Whickr App was always a consideration, the driving force behind launching a horse selling website – Whickr Web, was feedback collected from existing and potential customers. Whickr App in our opinion delivers the best experience for equestrians looking to buy and sell horses who are considered digital natives. Meaning they are familiar with technology and are surrounded by it in their day to day lives. However, not everyone is a digital native or comfortable using new technology. For Whickr to be a success and an invaluable marketplace, it must be accessible to all equestrians on every device imaginable with access to an app store or the internet. So that is what we have done. With the launch of Whickr Web, our marketplace is now accessible to every equestrian in the UK who is looking to buy or sell horses.
Key Differences between the Whickr App and Whickr Web
The main difference between visiting our marketplace on the web versus app is communication options between buyers and sellers. Our mobile app supports in-app messaging, with a messaging service similar to popular messenger apps. Whickr Web does not come with this service, buyers and sellers will have to opt for contact by telephone or email. The messaging service may be added to Whickr Web at a future date.
The second difference is payment methods. In-app payments are handled by Apple and Google Pay, whilst on web there are a wider number of payment methods; debit card, credit card, bank transfer, as well as Apple and Google Pay.
Update to advert package and pricing
Coinciding with Whickr Web launch we have added more media to our advert package. Previously adverts included three photos, two 30 second videos, and two YouTube Videos. The new advert package looks like this;
5 Photos
3 Minutes of video (3 x 1 minute videos)
5 YouTube Videos
With a much greater media allowance and advertisement across both app and web, we have removed the promotional discount that has been ongoing since the launch of Whickr App in 2019. Adverts will now cost the standard £24.99 per ad. For yards with more than one horse to advertise, there is a different rate from the single ad package. Our pricing page explains advert prices in more detail.
Win yourself a new horse!
To celebrate our website launch, as is tradition on social media, we are running a special prize giveaway where the lucky winner receives a new horse! View the Facebook post on our page and follow the instructions to be in with a chance to win.
To wrap up
Our marketplace for horses is now accessible to all equestrians and is available on both app and web. This is a significant milestone in our mission to build a centralised marketplace. But there is still much to be done. We have lots of ideas for building and improving on what we've got so far. Watch this space, there will be further updates in the future that will enhance the experience of buying and selling horses with Whickr.
Thanks for reading and your support so far.
Best wishes,
Andrew
Co-Founder