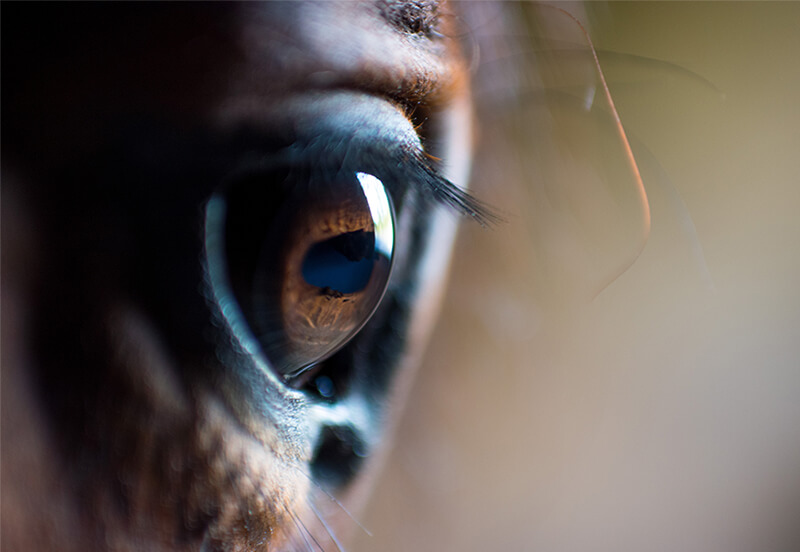 Buying horses unseen isn't a new phenomenon, it was happening before COVID and global and national travel restrictions were imposed, and is likely to continue as long as equestrianism remains a leisure activity and sport. Whilst buying horses unseen isn't new, perhaps the quantity of horses purchased in this manner has accelerated, leading to the topic becoming a popular discussion point on social media and online forums.
The decision to buy unseen can be split into two parts; the first, whether buying unseen is right for you, if you are a novice or nervous rider the answer is probably no. And once you have established whether buying a horse unseen is right for you, the next step is to put in place enough checks and balances to make you feel as comfortable as possible buying unseen, especially if it's your first time.
Let's dive in, here are some topics to help you decide if buying a horse unseen is right for you.
How experienced at buying horses are you?
Your experience buying horses shouldn't be conflated with your experience riding and horse care. Being able to see the horse in the flesh in their normal environment, and with the option to ride will certainly be of benefit to inexperienced horse buyers.
Equestrians who have bought many horses and attended many more viewings may feel comfortable buying unseen as they know what questions to ask and how. And are equipped with prior knowledge an inexperienced equestrian does not have.
What level of rider are you buying for?
If you are buying for yourself that should be a relatively easy assessment. If you feel like you are a novice rider or nervous rider, buying unseen is probably ill advised as one of the huge benefits of a viewing is the riding part. The term "novice rider" is ambiguous; a horse advertised for sale as suitable for a novice rider may not suit you for some unknown reason that can only be identified by riding the horse before committing to a purchase.
Experienced and confident riders can take more of a chance buying horses unseen as they can adapt their riding to suit the horse, and train the horse to go in a way that suits the rider. Luxuries that aren't always afforded to novice or nervous riders.
If you are buying a pony for your child and you are unsure of their ability, check with the instructor your child is attending riding lessons with, the instructor should have a good handle on what level of rider your child is.
How far away is the horse you want to buy unseen?
If the horse is a few hours away in the car, perhaps buying unseen isn't the best approach. A quick trip to familiarise yourself with the environment the horse calls home and getting to know the seller may be useful.
On the other hand, if the horse requires travel by sea or sky and time restraints or budget don't allow for such a trip, buying unseen is a more attractive option.
How old is the horse?
As the riding part of a viewing is a large contribution to the process, typically younger horses that aren't yet ridden would be considered less of a risk buying unseen. The decision to buy young horses is largely based on breeding. A yearling will look and move very differently as they mature and are ridden, so a viewing is considered less essential.
How well do you know the seller?
Buying a horse unseen from a reputable horse dealer with years' worth of experience and reviews that you can go and verify, or buying from a friend, should be less of a worry than buying unseen from someone you don't know or who appears relatively unknown.
Surmising the decision whether or not to buy unseen includes; your experience buying horses, the rider's ability and confidence, location, age of horse and familiarity with the seller.
If you're reading this and buying a horse unseen is the right decision for you, here are some considerations to mitigate the risks of buying unseen.
Hire an independent rider/ instructor to view on your behalf
Not quite buying unseen as someone has viewed on your behalf, but if you can't or don't want to view the horse, it might be worthwhile sending an independent rider or instructor. You can then lean on someone else's experience and collect feedback from someone who is impartial. If you are struggling to find someone to help, the relevant organisations; BD, BE, BHS and BS, have online directories of approved instructors and the areas they cover, that would be a good place to start your search.
Buy through a horse dealer or producer
Buying through a horse dealer who is considered a "trader" by the Consumer Rights Act 2015 you will have more implied rights, including the right to return a horse after purchase. You may even have more rights buying unseen if the "distance selling" regulations apply.
Irrespective of your implied legal rights, most horse dealers will offer return policies of some sort, whether it is reselling on your behalf via sales livery, a swap, or a refund. Knowing there are options available should the horse you are buying unseen not be suitable should provide added comfort.
Comparatively, buying your horse unseen from a private seller offers less implied rights, and less options should the horse prove not suitable. Private sellers are less likely to have the resources to offer a swap or resell on your behalf, and less incentive to provide a refund.
As long as the horse has not been falsely advertised, buying privately follows the legal maxim "Let the Buyer Beware" which means the buyer is to undertake their own checks to satisfy that the horse is of satisfactory quality and fit for purpose; an even more difficult task when buying unseen.
Ask for lots of photos and videos of the horse
With Smartphones and WhatsApp the seller can provide you with an album of photos and videos of the horse you are interested in buying unseen.
Here is a list of some photos that might be helpful, where applicable with the horse standing square;
Front of the horse
Full body shot of both sides
Hindquarters, taken standing directly behind the quarters
Each leg individually
Videos are just as important, here are some that might prove useful;
In hand, the horse walked away from the camera and trotted back
Horse being worked on the lunge
Horse in walk, trot, and canter (jumping optional)
Horse being ridden at different locations (competitions where applicable)
Horse being ridden out hacking
Horse being tacked up
Horse being mounted
Horse being taken out to the field
Horse having their feet picked out
Photos and videos can also be complemented with "live" video, giving you peace of mind that the videos of the horse being ridden are not merely the 50th take to get the horse going nicely over the course of fences in the arena!
Have a sales contract for the horse in place
If you are purchasing a horse unseen for a significant amount of money it may be worth instructing a lawyer to prepare a contract of sale.
Have your future horse vetted
Whether a full five stage vetting or a two stage vetting, a pre-purchase vetting is advisable when buying a horse unseen. An independent vet is another set of eyes to examine the horse on your behalf before you make the purchase. As stage three to five involve the horse being ridden, younger horses are often vetted using a two stage process.
Along with having the horse vetted, other health related checks include x-rays and taking a blood sample. Blood testing at the time of the vetting is less common but also an option.
The exceptions
Like all advice, there are many examples where none of the advice is adopted and the outcome is a success. My father is one of those exceptions, he buys fillies and colts from Europe and his buying decision is often driven by one YouTube video watched on his iPad. Like my father, you may be reading this and agreeing that the above suggestions sound like overkill. And for some that may be true, however, for those who have had a bad experience, are inexperienced, or simply thorough, putting more checks and balances in place ahead of buying unseen sounds like the right decision.
In conclusion
Buying a horse unseen is only a decision you can make, and to what extent you apply pre-purchase checks is determined by your preference and experience. Although we have discussed some best practises, it does not eliminate all the risks associated with buying a horse. There will always be a chance the horse isn't what you expected, buying seen or unseen, and that can often be a pleasant surprise, rather than a disappointment. If you are searching for a new horse, we wish you the best of luck!
What are your thoughts - would you buy unseen? Please leave your comments in the section below!