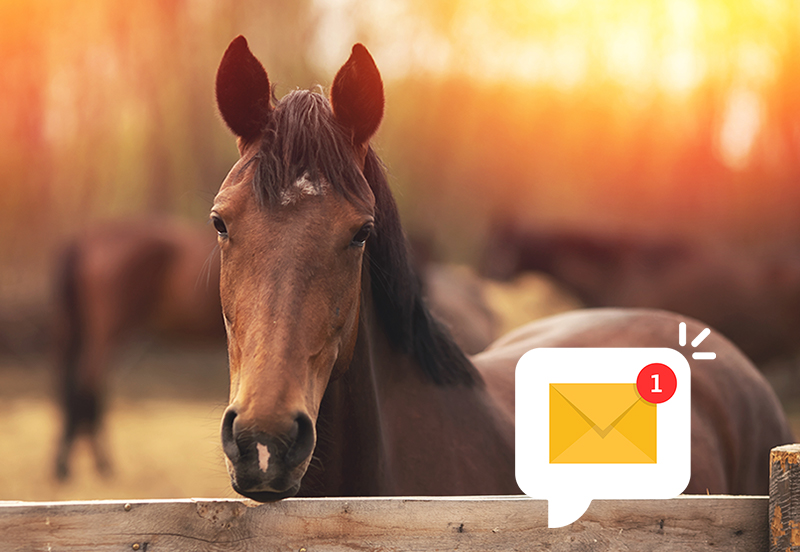 You spoke, we listened, we discussed the problem internally and now with great excitement we can say that we've delivered. A new feature to solve the in-app communication problem. Some of you may not even be aware that you are able to exchange messages between buyers and sellers of horses and ponies, and that is a part of the problem.
In-app messages on platforms designed for advertising horses for sale had never been done until Whickr came along. As the only platform in the UK or possibly the world with this feature, some of our app members have been turning off notifications, the problem with this is that without being notified you have a new message from a prospective buyer or a response from a seller, how do you know that you have received an in-app message? The answer is with great difficulty!
Solution
The solution, we send people an email as a heads up that you have an in-app message in your Whickr app that might need your urgent attention. To stop it being annoying, especially if you are in a live conversation with someone in the app, we have designed it so you only receive an email notification if you haven't read the message in the app within 30 minutes. There is also a link at the bottom of the email notification for you to manage your preferences and turn off email notifications if you don't want to receive them and are happy with app notifications only.
If you wish to turn on your app notifications, please go to settings on your phone or if you need help with that, please get in touch and we can run through turning on your app notifications with you via a quick call.
We hope this helps some of you reply to in-app messages quicker and not miss out on the potential sale or purchase of a horse or pony. It's just the beginning of our planned enhancements to the Whickr messaging experience, and there's plenty more to come!
Please update your Whickr app
Along with this new feature, we have resolved the link issue that some mobile app members were experiencing on Facebook. All links now work perfectly for everyone, all you need to do is update your app on either Google Play Store or Apple App Store and click away!
To wrap up…
We have so much more exciting features and opportunities in the pipeline for 2023 to make Whickr the go-to marketplace for buying and selling horses so watch this space. And, for those that have been patient with some of the niggles that have now been fixed, thank you.