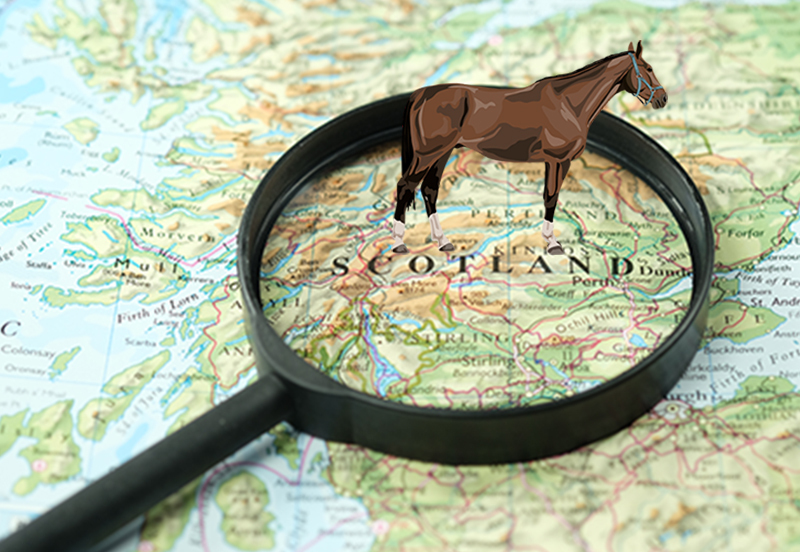 Viewing horses for sale in Scotland unless you are living in Scotland is unlikely something that you would have considered before reading this blog. But, with plenty of quality horses for sale north of the border, our opinion is to reconsider Scotland as an attractive location to go and view horses for sale.
In this blog we'll outline the why, what and how of viewing horses for sale in Scotland.
Why view horses for sale in Scotland?
The reasons why you should visit Scotland to view horses for sale are based on both fact and opinion. The opinion part is based on anecdotal evidence and experience.
First up on the list of why you should view horses for sale in Scotland.
Accessibility of horses in Scotland
Scotland is a part of the United Kingdom and if you're reading this based in England, you are able to drive your car to view horses in Scotland that are for sale. No need to fly on a plane or sail across on a ferry.
Yes, it may take a reasonable amount of time to drive to Scotland subject to where you live and where you are travelling to in Scotland. But, it requires far less planning than travelling to other countries to view horses for sale, and is also much cheaper.
As long as you own a car, or your friend does, all you are paying for is fuel. Another big benefit is that you don't have to worry about the rigmarole that goes into travelling to different countries by sea and air, even more so since the Coronavirus pandemic.
There are quality horses for sale in Scotland
If you have psychologically gotten over the distance hurdle, the main reason you should view horses for sale in Scotland is because there are quality horses available. And, due to the distance and the population sparsity versus England, it is likely that quality horses in Scotland do not sell as quickly as horses advertised for sale in the home counties that surround London, as an example.
This is a massive advantage that can work in your favour. At time of writing, the market for buying and selling horses has gone crazy; people are more regularly buying horses unseen, paying large deposits upfront, buying horses that are perhaps not quite suitable and out of budget because of fear they will not find a suitable horse, and horse prices as a response have anecdotally increased to reflect the increase in demand.
With fewer people living in Scotland and people based in the rest of the UK typically hesitant to travel to Scotland to view horses for sale, it would be fair to assume that quality horses may take a little longer to sell. Not weeks longer but perhaps days, days which allow you to secure a viewing on the weekend; you're too busy with day to day life to drop everything and view horses for sale later today like other people.
The slightly extended time it takes to sell quality horses in Scotland allows you to make an informed decision without rushing and most importantly, it allows you to view horses for sale that you are interested in buying. Buying horses unseen unless you are a professional or buying youngstock is typically not advised.
Transporting horses from Scotland is straightforward
There are professional transport companies who specialise in transporting horses and ponies from Scotland to other countries. The services available from these transport companies will also include stops and stabling for horses, should they need an overnight stay to rest before travelling the next day to their new home.
A simple Google search and you'll find transporters that will be able to provide you with a quote. The first result from Google is for Eric Gillie Ltd who amongst others would be able to help you transport your newly purchased, quality horse, from Scotland to your yard.
How to find horses for sale in Scotland
The Whickr marketplace available on both our website and horse selling app, has easy to use location filters. Simply type Scotland into the filters along with your other requirements when browsing horses for sale and hit Apply Filters. The result will be a list of horses for sale in Scotland that should match your criteria.
If you are travelling from somewhere else in the UK to Scotland and it is going to take a reasonable amount of time to get there, it is likely you will want to have more than one horse lined up to view. It may be possible to reach a number of horses for sale to view in Scotland via private sellers, but to make the trip worthwhile, viewing horses for sale based with horse dealers and producers would ensure you see enough horses to justify your trip up north.
Viewing horses for sale from a reputable horse dealer will increase the number of horses you can view when in Scotland. Buying from a horse dealer also has the benefit of greater implied legal protection than buying from a private seller.
A popular, family run business based in Scotland who advertise their horses for sale through Whickr are Riverside Horse Sales. If they do not have a horse or pony for sale that is suitable, it is stated on their website that they may be able to help find what you are looking for through the contacts they have built up by working in the industry for so many years.
To wrap up
Don't disregard Scotland as a valuable source of horses for sale. It is a car journey away, there are plenty of quality horses available, you might get more bang for your buck, and it is straightforward to get your new horse from Scotland down to your yard.