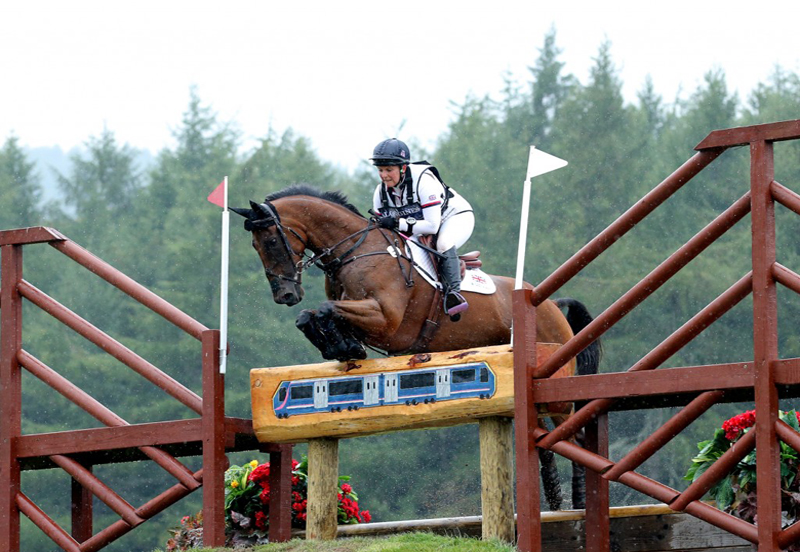 Ex-Racehorses Moonfleet, Stunning, Parklane Hawk, Miner's Frolic, Kilpatrick River, Arctic Soul, Clifton Promise, Ensign, and Five Boys, names that will be familiar to anyone who grew up following the sport of eventing.
Other than their notable successes on the international circuit, these horses all have one thing in common- they were not bred for eventing, and they had already retired once before they walked down the centre line at their first dressage test.
As ex-racehorse lovers cheer on Arctic Soul (and the unraced Star Witness and Classic Moet) around Badminton next week, we look at five reasons why thoroughbreds still excel at eventing.
Speed and Stamina of an ex-racehorse
The switch to short format eventing was regarded by many as the change that would spell the end of blood horses, ushering in a new age of sports horses and continental breeding.
However, many riders still choose to buy thoroughbreds; their notable speed and stamina means that they can hit optimum times, avoid penalties and perform at the top level for three days straight.
National Hunt horses will need retraining to show jump and deal with the technicalities of a cross country course, but having the conformation and ability to cleanly jump puts them at an advantage. A sporting frame and a high muscle mass (55%!) aids the transition to dressage too.
Ex-racehorse early training
The age at which thoroughbreds start their training often sparks criticism both within and outside the equestrian community, but it may play a role in their retirement success.
Although it seems counter-intuitive, a Hartpury College dissertation study highlighted the benefits of horses starting work at an earlier age, reporting that it may contribute to a more successful post-racing eventing career.
Racehorses who run at a young age retire into eventing at the prime of their lives, at peak physiological and cardiorespiratory strength.
Being trained young sets horses up to be mentally and physically strong, so they start eventing ahead of any four year old Dutch warmbloods who have only ever seen the inside of a youngstock grading ring.
A more intelligent horse
We've all seen those memes about brainless warmbloods, and while they may be a generalisation, anyone who's owned an ex-racehorse will tell you that their horse is clever.
Horses that are too intelligent might be difficult (anyone else seen an Arab and its rider have a difference of opinion?), but the thoroughbred strikes the right balance of listening to its rider, and thinking for itself.
That becomes very important when navigating a tricky cross country course; a horse that can work out a line and find a fifth leg is not just a valuable competitive asset but can be safer for the rider.
Dressage is very different to racing, but the quick mind and trainability of the thoroughbred means that they can adapt to a new discipline.
This breed likes trying new things, and eventing has enough variation for horses with a constant need for a new challenge.
Experience from the racing track
Picture a racehorse. It's busy, buzzy, and full of distractions.
A career on the racetrack is the perfect preparation for competition life; ex racehorses are used to crowds, loudspeakers, other horses, and the adrenaline rush of events.
Having been handled from a young age they are usually quiet to shoe and brush, confident travellers, and used to checks from vets, physios, and other equestrian professionals.
These experiences mean that riders can focus on the horse's eventing education, rather than worrying about how they will react to children queuing at an ice cream van.
Rider Preference
Eventing and racing have close links, with personalities such as Tina Cook, Clare Balding, and William Fox-Pitt having connecions to both sports.
This invariably means that horses cross disciplines with their owners and riders, and that many eventers have a soft spot for the thoroughbred.
To commit to mastering three different phases, with three different skill sets, and to repeatedly put yourself in physical danger takes a certain mindset, and it could be argued that the guts that it takes to be an event rider also predisposes one to enjoying the speed, daring, and occasional risk of retraining an ex-racehorse.
Therefore, while the thoroughbred has lots of characteristics that make it a good eventer, rider bias and past exposure plays a part.
Summary
Ex-racehorses are a household brand in the event world, and the 5 reasons mentioned in this blog demonstrate why when it comes to the challenging sport of eventing, there's no better type of horse.
Do you event an ex-racehorse? Why did you choose yours, and would you buy another?