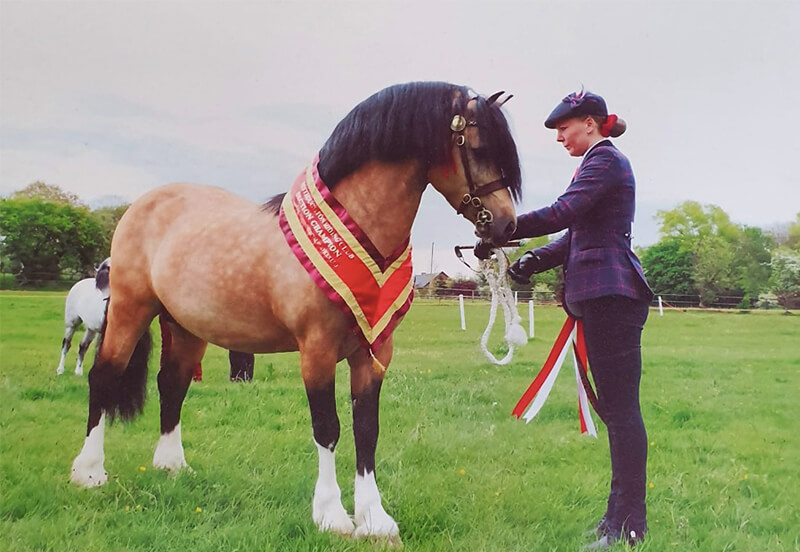 From the sheep-cropped hillsides to the main ring of the Royal Welsh show, ponies and cobs sit alongside dragons, rain, and male voice choirs as key elements of Wales's cultural export. The Welsh Pony and Cob Society, which manages the studbooks and run numerous shows and competitions, oversees the Welsh native breed, which is split, rather unromantically, into four Sections.
It is the largest of Britain's native breed societies, and has outposts across the world. Welsh ponies can be found hock deep in the Swedish snow, prancing under the Star- Spangled Banner, and basking in the sunshine of South Africa and Australia. Their versatility, and range of size and shape, make them suitable mounts from toddlerhood into old age; a rider could spend a lifetime without leaving the back of one of these horses. So what are the Welsh Sections, and what makes them special?
The Sections are the four "types" of Welsh pony; the Welsh Mountain Pony (Section A), the Welsh Pony (Section B), the Welsh Pony of Cob Type (Section C), and the Welsh Cob (Section D). Gelded males of any Section are sometimes referred to as Section E. The four are closely linked, with historic cross- Section breeding, common ancestors, and similar characteristics.
The first written reference to these horses dates to 930 and is found in the laws of Hywel Dda, ruler of the ancient Welsh region of Deheubarth. All of the Sections have an Arab influence, which the Welsh Pony and Cob Society largely attribute to cross breeding with horses left by the Romans after their departure in 410. More recently, thoroughbreds, Arabs, and Hackneys have been used to enhance favourable traits.
Welsh Mountain Pony- Section A
Described by the Welsh Pony and Cob Society as "hardy, spirited, and pony- like," the Welsh Mountain Pony is small, standing at a maximum height of 12hh, and can be registered in any colour bar skewbald and piebald.
Believed to be a descendant of the Celtic Pony, the Welsh Mountain Pony has existed in the Welsh hills for millennia. Their history is somewhat bloody; they were persecuted by shepherds and farmers, then felt the venom of Henry VIII's policies (he was of the opinion that animals had no value unless they were capable of going to war, so ordered the culling of any stallions below 15hh and mares below 13hh). Some ponies found respite in the mountains, and passed to their descendants their toughness, strength of character, and an ability to weather the worst of the elements.
Today the Welsh Mountain Pony is found the world over, and is a popular breed for showing enthusiasts. Many a keen rider learnt their craft astride a furry Section A, and they are most commonly seen ridden by small children. Whether pottering about at home, winning at Pony Club bending pole races, or adorned with rosettes at the most prestigious shows, the Welsh Mountain Pony is the best friend of a pony- mad child (and of some tiny adults!).
Welsh Pony- Section B
The Welsh Mountain Pony's bigger and (arguably) glossier friend, the Welsh Pony stands at up to 13.2hh, and is described by the studbook as a "riding pony, with quality riding action." Aside from their extra height, these ponies share the same general description as a Section A, but to the casual observer are usually perceived as a little finer (and perhaps less likely to thrive in an inhospitable climate). Being bigger, they are often seen as a second pony, and can take a child from the transition to First Ridden classes into their teenage years. They are athletic and natural jumpers, and can excel at disciplines such as dressage, pony racing, and Pony Club eventing and tetrathlon. A strong option if you're deciding to buy your child a pony!
Traditionally the Section B served as a means of transport for shepherds and hill farmers, being strong enough to carry an adult of that time. More recently their popularity has soared since the 20th century adoption of children's riding ponies. However, they can still be found ridden by small adults, and could make a parent/child share when the former is light weight!
Welsh Pony of Cob Type- Section C
Standing in the shadows of the other Sections, the C is sometimes overlooked. This is a mistake, as these strong ponies are a wonderfully adaptable breed. With a maximum height of 13.2hh, the Section C is technically a pony, but it's cob blood makes it stronger and tougher than the Section B.
The Section C is a true dual-purpose breed and excels in harness, as well as being a useful hunter, hack, and all round Pony/Riding Club mount. Their extra bone makes them a more realistic family horse than the finer Section B, and the mares can be crossed with thoroughbreds and Arabs to throw especially nice Welsh Part Breds.
Welsh Cob- Section D
Whether thundering around the main ring on the Wednesday of the Royal Welsh Show, or taking the streets for Cardigan's Barley Saturday, Wales would not be the same without the high stepping gait and crested neck of the Welsh Cob.
References in Welsh literature lead the Welsh Pony and Cob Society to believe that the Section D was established as a breed by the 15th century. Since then their key characteristics of courage, tractability, endurance, strength, hardiness, and agility have made them enormously popular leisure and competition horses.
The Welsh Pony and Cob Society proudly declare that the Section D is the "best ride and drive animal in the world", and state that they are quiet enough to be ridden by a child, while being strong enough to carry an adult. The Section D can be any height over 13.2hh, with some (particularly of Maesmynach breeding) standing at up to 16hh. Despite their size they retain pony character, and their heads bear the same Arabian influence as the smaller Sections.
Aside from their ride and drive excellence, the Welsh Cob's sure footedness, intelligence, and stamina make them perfect hunters for difficult ground, be it bog, hill, or steep slopes. They also excel at disciplines such as TREC, and Welsh Cobs have competed at high level endurance competitions as well as the more mainstream equestrian sports. Their ability to outwinter, and to generally look after themselves, are a bonus for anyone with limited stabling or poor ground.
Where Can You Buy a Welsh Pony or Cob?
The popularity of Welsh Ponies and Cobs means that they can be found for sale through all of the usual sales avenues; horses for sale websites, private sales, markets, and our own Whickr App!
Breeders will sell some animals (especially young ones) directly from the stud; the Welsh Pony and Cob Society has a directory of breeders which is a good place to start, especially if you are after particular bloodline. Brightwells Fayre Oaks auction and High Flyer Sale, held at the Royal Welsh Showground in Builth Wells, is the most prestigious outlet of Welsh Ponies and Cobs, and is worth a visit for anyone interested in the four Sections (even if you spend the time afraid to scratch your nose lest it pass as a bid).
Why Should You Buy a Welsh Pony or Cob?
The key word for the Welsh breeds is versatility. Depending on the size of the adult, they can make excellent family horses, they excel in a range of disciplines, and they are hardy with good, level temperaments. They have pretty heads and are generally attractive, while having a practical toughness which makes them low maintenance to keep (as far as horses go). For those with aspirations of red rosettes and silver cups, Welsh Ponies and Cobs have their own classes at almost all shows, as well as being able to compete in Mountain and Moorland sections.
The size of the Welsh Pony and Cob Society allows for social events and a support network to help new members, and the adaptability of these lovely animals means that their owners are welcome in clubs and societies across all disciplines. Riders without the competitive edge will find that their Welsh Pony or Cob will delight in long rides, taking traffic and errant leaves in their stride, and are happy to spend the latter years of their long lives dispensing wisdom to young upstarts from their retirement paddock.
To quote an old Welsh Pony and Cob Society bumper sticker; don't horse around, get a Welsh Pony! (Or Cob)