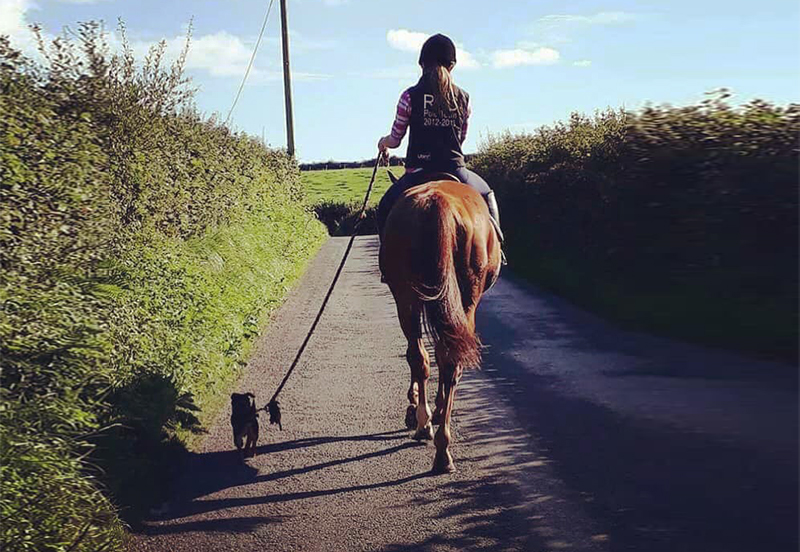 Here at Whickr App we love ex-racehorses; they're fun, fast, and usually have a fascinating history. We've already given you guides on choosing and retraining horses from racing, but where do you go if you want an ex-racehorse, but don't want to buy directly from a trainer or auction?
Our app is a great place to buy an ex-racehorse, but it is also possible to adopt or long-term loan an ex-racehorse which has had basic retraining in expert hands. Sounds too good? Nope, it's what you can expect from a racehorse rehoming centre…
Why rehome an ex-racehorse?
Around 5,000 racehorses leave the racing industry each year, due to a mixture of factors including poor performance, age, injury, temperament, and veterinary problems such as Exercise Induced Pulmonary Haemorrhage ("bleeding"). While they may not be suitable for racing, these horses can lead extremely happy and successful second lives. The racing industry is aware of the potential welfare implications of its horse turnover, and in the last decade there has been a concerted effort to ensure that as many horses as possible find a new vocation after they run their last race. With so many animals to choose from, there are horses to suit roles from companions to five-star eventers.
A 2013 report by Deloitte highlighted that racing in the UK has a total economic impact of £3.45 billion, pays over £275 million in tax, and employs 17,400 full time equivalents in the direct industry, and over 85,000 people if you add in indirect and associated employment. None of these massive contributions to the economy- nor the enjoyment of racing as a sport- would be possible without the horses, and ensuring that as many as possible lead full and happy lives after racing is one way that we as racing fans can give back.
What can ex-racehorses do?
The short answer is: anything and everything they want to! Racehorses are bred for short bursts of intense speed (sprinting Flat horses), and stamina and jumping ability (National Hunt). There are clear genetic differences between horses which excel at either end of racing distances (a SNP in the gene which encodes for myostatin, a growth factor which regulates muscle mass), but all thoroughbreds have in common a predisposition for athletic excellence- even the ones who failed on the race track.
Ex-racehorses can be found at the top of eventing, in hunting fields across the country, and holding their own against warmbloods in dressage and showjumping. Smaller animals have a history of second careers in polo, and thoroughbreds crop up in unexpected disciplines like endurance, horse ball, and jousting.
As intelligent animals they like variety, and so can really enjoy an amateur home where they mix hacking with Riding Club flatwork clinics, local hunter trials, and beach rides. Outside of designated Retraining of Racehorses classes they can be shown as hacks, riding horses, working hunters, and hunters, depending on their build.
Retraining of Racehorses
Retraining of Racehorses is the British Horseracing Authority's official charity for the welfare of ex-racehorses. Funded primarily by the racing industry, the charity exists to promote ex-racehorses, educates new owners, helps racehorse owners and trainers rehome retired horses, and operates a system to assist any former racehorses considered vulnerable, through providing funding and expert care.
As part of its work to promote ex-racehorses, Retraining of Racehorses runs competitions across all the major equestrian disciplines, has regional branches who organise training sessions, and even celebrates their versatility through personality awards!
Although they are not a "rehoming" charity as such, Retraining of Racehorses does operate a database of horses seeking homes, and is a first port of call for anyone taking on an ex-racehorse, as they have reams of information on the transition from racing to civilian life, covering everything from stable management to riding style.
They also have a directory of retrainers recommended by racehorse trainers and links on their website to equine charities which have worked with them. These are both invaluable to those seeking an ex-racehorse who do not have immediate industry links.
The Racehorse Sanctuary
Based in West Sussex, The Racehorse Sanctuary is unique in that they focus on horses that are vulnerable and cannot easily be rehomed.
"We specialise in horses who need more time and expertise thanks to our High Dependency Unit which is sponsored by the Sir Peter O'Sullevan Trust," explains founder Graham Oldfield "We have no time restraints and no targets which allows us to treat every horse as an individual regardless of how long it may take. We do not believe in putting any horse down simply because it cannot be ridden; provided it has a good quality of life it will remain with us."
The charity is self-funded, and has several high profile Patrons including novelist Jilly Cooper. As well as straightforward horses off the track they take in animals with behavioural difficulties, and those that have become welfare cases through poor education and neglect. Some of these remain at the sanctuary for life, but others are offered on permanent loan following rider assessment, home inspections, and a commitment to unannounced welfare visits.
All horses taken to the sanctuary are assessed and isolated, and then put through lunging and then riding. Their diets are slowly changed and they share paddocks. Through the process the charity decides on the most suitable future for the horse, and tailors a personalised retraining programme.
In order to ensure that the sanctuary can look after as many vulnerable animals as possible, healthy, well-adjusted horses can be fostered until they are rehomed. Fosterers have to live within a specified distance of the centre, and have experience with ex-racehorses.
"Fosterers must be aware that the horse is only with them whilst a suitable home is being found," warns Mr. Oldfield "They could be in danger of falling in love with an animal that will be taken away. Having said that, there is no reason why they shouldn't change their plan and take the horse on a permanent basis."
Those looking to offer a permanent home to a horse from the sanctuary must be confident that their circumstances are stable, and aware of the daily obligations of keeping an ex-racehorse. The initial home will be inspected before the loan is agreed, but any new yards will also be assessed on top of the random spot checks.
HEROS
The Homing Ex Racehorses Organisation Scheme (HEROS) was established in the 1990s when Grace Muir was asked by trainers to rehome their horses, and became an official charity in July 2006.
The Oxfordshire based organisation aims to rehome around 100 ex-racehorses a year, and is one of the country's best known centres, funded by race goers, owners, patrons, and a grant from Retraining of Racehorses.
Horses in HEROS's care are given rest and time at pasture before being ridden and carefully matched to new careers and owners. Potential owners can try the horse many times at the centre, and will have the option of either purchasing the horse or entering into a permanent loan agreement, depending on the circumstances in which the horse was gifted to HEROS.
Alongside their work with ex-racehorses, HEROS also has an educational aspect, through running the HEROS Racing Staff Academy in partnership with Abingdon and Witney College. This arrangement seeks to address the shortage of stable staff in the racing industry, and gives students valuable experience with horses out of training.
Horses available for rehoming (as companions and as ridden animals) can be found on the HEROS website, plus general advice on looking after ex-racehorses.
Godolphin Lifetime Care
The blue silks of His Highness Sheikh Mohammed bin Rashid Al Maktoum are famous across the world, but have you ever wondered what happens to those horses when their racing careers are over? The best live out their lives as part of the Sheikh's breeding operation, the legendary Darley, leaving a legacy as some of the most influential sires and dams of their generation.
Sheikh Mohammed is a major supporter of racehorse welfare, having made a £2.5 million donation to Retraining of Racehorses. It is therefore unsurprising that his business walks the talk; and Godolphin Lifetime Care is the racing empire's rehoming strategy for retired geldings. Reflecting the global nature of the business, there are rehoming centres aligned with Godolphin in America, Australia, and Japan, while Europe is represented (fittingly) in Newmarket.
After leaving racing the geldings are given two to six months worth of holiday and rehabilitation, followed by retraining in basic handling, hacking alone and in company, and an introduction to jumping for those deemed capable. Through the process the staff work out what the horse will enjoy as a future career, and then work through a selection process of matching horses and riders. Potential new owners try the horse at Newmarket, and if successful enter a three- month loan agreement. All being well, horses are purchased at the end of the loan period for £100 plus VAT.
With the backing of the most powerful man in international racing, the Darley and Godolphin Arabs can rest easy in the knowledge that their descendants are given the best lives possible, both during their racing careers and after retirement.
Give and take
Rehoming racehorses is at its core a matter of welfare, and morality. We know that racing makes a significant contribution to the economy, and that the horses that keep it going bring joy to millions of racegoers and viewers. With most retiring at an age where their whole future is ahead of them, rehoming and retraining ex-racehorses also benefits the wider equestrian industry, through their contributions to everything from making their individual owners happy to winning Olympic medals.
The work of these charities and organisations- from those that focus solely on their own racing "wastage" to those that seek to help and keep the most vulnerable horses- is essential to ensure that racing retains and improves its standards of welfare. They also work tirelessly to remind us that, of all breeds, the thoroughbred has dominated equestrian sport for three hundred years.
And from those first fiery Arab stallions, to gold medal winners and the fluffy veteran in your paddock, they have always been capable of so much more than winning races. Thoroughbreds, you are the kings and queens of our equestrian kingdom, and long may you reign over us, on the track and beyond it.